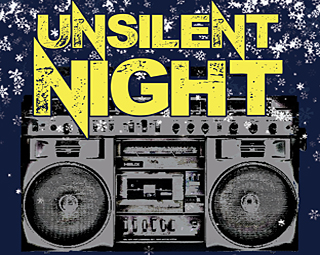 Experience the warmth of community through musical fellowship, and help University City Partners create a new holiday tradition.
Join us 6-8 pm Dec. 6 at the Shoppes at University Place to sip mulled wines and hot chocolate, visit with the Grinch, enjoy crafts and performances and join a walking musical parade unlike any other!
A musical parade like no other
The centerpiece of the evening is composer Phil Kline's musical parade, Unsilent Night – where everyone can play a part. Unsilent Night has been performed at more than 120 locations worldwide.
"Unsilent Night is an original composition by Phil Kline, written specifically to be heard outdoors in the month of December," the Unsilent Night website explains.
"It takes the form of a street promenade in which the audience becomes the performer. Each participant gets one of four tracks of music in the form of a cassette, CD, or Mp3. Together, all four tracks comprise Unsilent Night.
"The fact that the participants play different 'parts' simultaneously helps create the special sound of the piece. Participants carry boomboxes, or anything that amplifies music, and simultaneously start playing the music.
"They then walk a carefully chosen route, creating a unique mobile sound sculpture which is different from every listener's perspective."
Many other activities for all ages
Unsilent Night at University Place will offer many other activities for all ages besides the parade.
All activities are free, and most will be on or near the outdoor lakefront stage near Boardwalk Billy's.
Here is the evening schedule:
6:00-8:00: Making crafts, courtesy of University City Regional Library.
6:00-6:30: Governor's Village STEM Choir
6:30-6:45: Walking Unsilent Night parade around the lake.
6:45-7:00: Children's Theater of Charlotte
7:00-7:30: Epiphany A Capella
7:30-8:00: Carolina Vocal Project
Plus, the Grinch and other Whoville characters will entertain the youngsters.
Hot chocolate and mulled wine available for purchase.
Event details
Unsilent Night, presented by University City Partners
6-8 pm Dec. 6 at the Shoppes at University Place, 8929 JM Keynes Drive, Charlotte. Directions
The event is free. Beverages and food are available for purchase.