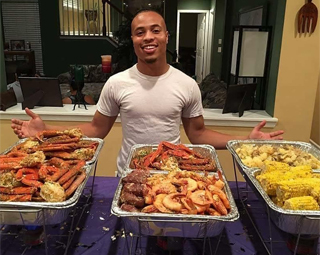 Most new restaurants struggle to bring in a crowd and establish their reputation. Not so with Seafood Connection.
That's because chef and owner Jamie Walker has delighted diners for years with his Low Country-style seafood – long before he found a permanent restaurant home in University City.
Seafood Connection opened in July at 630 University Center Blvd., overlooking West W.T. Harris Boulevard near I-85.
How popular?
How popular is this place? Well, its Thanksgiving Sunday Seafood Brunch sold out in three hours, and Facebook says the Seafood Connection page has more than 44,000 likes!
Yelp's list top 10 seafood restaurants in charlotte ranks Seafood Connection at No. 3, and it's only been open 5 months.
How did Walker build this reputation? Through a pop-up restaurant. He started by serving food in parking lots, and then later at a church. For a brief time, he shared space with another restaurant on Albemarle Road.
Seafood Connection makes headlines
You can learn much more about Seafood Connection and Jamie Walker from these three news reports.
About Seafood Connection
630 University Center Blvd., near McCullough Drive and West W.T. Harris Boulevard. Directions
980-498-6908
Open 11 am-9 pm Thursdays-Saturdays and Sundays 11 am-7 pm; Sunday brunch served 11 am-4 pm or until the food runs out.