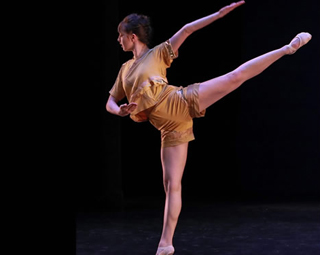 November days are short, but the spotlights will shine brightly throughout the month on UNC Charlotte dancers and musicians.
Among the shows – the Fall Dance Concert in Belk Theater at Robinson Hall, The Veterans Day Concert at Ovens Auditorium and the university orchestra's Prayer for Peace at Booth Playhouse.
Orchestra: Prayer for Peace
7:30 pm Nov. 8 at Booth Playhouse in Blumenthal Performing Arts Center
The UNC Charlotte Orchestra, under the direction of Jonathan Govias, presents Prayer for Peace: A Symphonic Remembrance of War, Holocaust, and Hope. The concert features cellist Cicely Parnas and narrator Jay Morong.
Six pieces will be performed, all with strong connections to the tragedy of World Wars I and II. Details
For Heroes Proved: A Veterans Day Concert
7:30 pm Nov. 11 at Ovens Auditorium, 2700 E. Independence Blvd.
The UNC Charlotte Wind Ensemble is joined by the University Chorale and the Pride of Niner Nation Marching Band for a Veterans Day salute. Performed on the 100th anniversary of the end of World War I, the multi-media concert features patriotic music and video from the marching band's summer performances at World War II sites in Normandy, France.
The concert is free and no tickets are necessary; there will be a fee for parking. Details
Fall Dance Concert
7:30 pm Nov. 15-17 and 2 pm Nov. 18 in Belk Theater at Robinson Hall for the Performing Arts
Students in the Department of Dance will perform four works choreographed by UNC Charlotte dance faculty and guest artists, including choreographer Claudia Lavista of Delfos Danza Contemporánea, Mexico.
Lavista will converse with the audience following the Nov. 15 performance. Details and tickets
Gospel Choir concert
7:30 pm Nov. 19 at Rowe Recital Hall
Directed by Dr. Michael Figgers, the Gospel Choir performs music from the gospel music tradition – past and present. Details and tickets
Percussion Ensemble concert
7:30 pm Nov. 26 in Belk Theater at Robinson Hall.
The Ensemble performs a diverse program. Details and tickets
Philharmonia concert
7:30 pm Nov. 28 at Rowe Recital Hall
The Philharmonia is a string repertory orchestra. Open to all members of the public, age 14 and up, the ensemble provides a positive and supportive environment for string players wishing to continue their involvement in music in a fun and low-pressure setting.
The performance is free. Details
Symphonic Band Concert
7:30 pm Nov. 30 in Belk Theater at Robinson Hall.