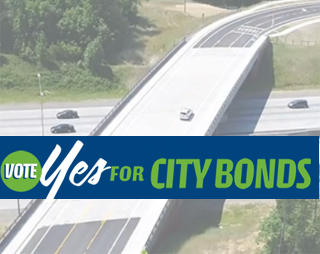 When you go to the polls over the next few weeks, be sure to vote for Charlotte's general obligation bonds.
The $223.8 million in projects that the bonds will fund include several that directly benefit University City – including a new bridge linking the research park to light rail; street improvements to make our business district more walkable; and community improvements at the I-485 Prosperity Village.
Here's a brief overview of the General Obligation Bonds
Transportation Bonds – $118.08 million
The bonds will fund street and intersection projects, continued development of the Cross Charlotte Trail, upgrades to Charlotte's traffic control system, pedestrian safety improvements, and repairs or construction of bridges, sidewalks and bikeways.
In University City, more than $50 million will go to ongoing improvements of streets, sidewalks and intersections along the Northeast Corridor that includes the LYNX Blue Line Extension.
The funds will also build a revolutionary vehicle-bike-pedestrian roadway and bridge linking University Research Park to the JW Clay Blvd Transit Station, the North Tryon Street business corridor and UNC Charlotte. SEE THE VIDEO
More money will also go to develop the 30-mile Cross Charlotte Trail. When completed in the next decade, the paved path for pedestrians and cyclists will run from University City to Pineville via UNC Charlotte, NoDa, Uptown and southeast Charlotte. GET DETAILS
Housing Bonds – $50 million
Housing bonds fund the city's Housing Diversity Program. This money is matched with private investment dollars to provide affordable and well-maintained housing for low- and moderate-income individuals and throughout Charlotte.
The Housing Diversity Program not only addresses the need for new construction; it also helps preserve existing housing through rehabilitation of both single and multifamily housing units.
Neighborhood Improvement Bonds – $55 million
Neighborhood improvement bonds fund projects that address infrastructure needs in the city's established neighborhoods and emerging high-growth areas.
They support a network of streets, sidewalks, greenways and bike lanes to better connect neighborhoods with major employment, institutional and retail areas.
In University City, some of this bond money will go for improvements to the Prosperity Village community along I-485. LEARN ABOUT THE PROSPERITY VILLAGE PLAN
Learn more about all of the bonds
Visit voteyesforbonds.com for much more information about how the Charlotte General Obligation Bonds will help meet important community needs.
Early voting continues through Nov. 3
Early voting has begun and continues until Nov. 3, the Saturday before Election Day (which is Tuesday, Nov. 6). Check the ballot, voting place and early voting times and locations at the Mecklenburg County Board of Elections or online here.