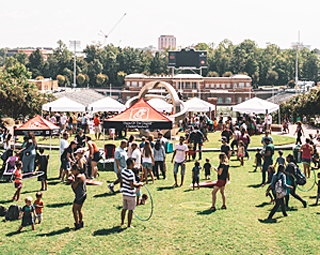 Great weather, wonderful volunteers, generous sponsors, inspired activities, perfect location and 6,500 guests – many of them under age 10 – made for a super Second Annual Charlotte Kids Fest in University City on Sept. 22.
UNC Charlotte, University City Partners, TIAA and numerous other businesses and groups teamed up to present this vast learning event designed especially for children 10 and under.
Kids Fest took place in the heart of the university's Charlotte Research Institute campus, just a short walk from the LYNX light-rail station at JW Clay Boulevard. For people arriving by car, Parks Chevrolet sponsored free parking in the CRI parking deck.
Dozens of activities ranging from dance to chemistry experiments challenged the bodies and minds of the young visitors.
One of our food vendors, City Barbecue, used the day to raise $1,000 for Operation North State, providing aide to Hurricane Florence victims.
49ers gave 100%
Darlene Heater, executive director of University City Partners, said that Kids Fest was conceived in part as a way to introduce potential UNC Charlotte 49ers and their parents to the many opportunities available at the rapidly growing urban research university right in their own backyards.
The university certainly rolled out the welcome mat, providing both the venue and numerous activities staged by 17 departments.
More than 100 UNC Charlotte students volunteered for the event, as well.
Thanks to the great Kids Fest sponsors and friends
An event this big also takes strong corporate and non-profit support. We are fortunate to be so blessed.
Title Sponsor: TIAA
Presenting sponsors: University City Partners and UNC Charlotte
Zone sponsors
Arts and Science Council
Atrium Health
Charlotte Area Transit System
Walmart
Friends of the festival
Atlantic Bay Mortgage Group
BlueCross BlueShield

Charlotte Solid Waste Services

Charlotte-Mecklenburg Schools
Chick-fil-A University Place
Edward Jones
OrthoCarolina
Sullivan Family Chiropractic and Massage Therapy
TruGuard
Truliant Federal Credit Union
Additional support
Charlotte Regional Visitors Authority
Morningstar Mini-Storage
Parks Chevrolet
The YMCA