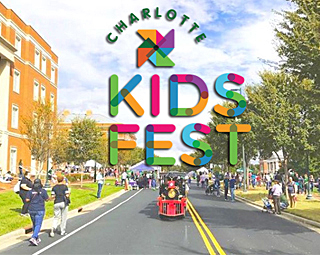 Turn your youngsters on to learning, play, creativity and just plain fun this Saturday, Sept. 22, at the 2nd Annual Charlotte Kids Fest. From 11 am to 4 pm, Robert D. Snyder Road on the UNC Charlotte campus will overflow with activities to inspire, motivate and activate young minds and bodies! And it is all free!
UNC Charlotte, University City Partners, TIAA and numerous other businesses and groups have teamed up to present this vast learning event designed especially for children 10 and under (which is not to say that older kids and even we adults won't enjoy it).
Imagine a campus street filled with clowns on stilts, balloon artists, superheroes and dozens of places for curious children to activate their minds, hands and bodies while having fun.
This IS Kids Fest
You can see the many possibilities for fun at our event website, charlottekidsfest.org. Here are some examples:
Chick-fil-A University Dance Party – Those crazy cows and some of kids' favorite superheroes are taking over the Dance Zone for a daylong Kids Fest Dance Party.
Lego Robotics – Toys turn high tech courtesy of Digi-Bridge. Find them in the Create Zone at Kids Fest.
Get kicking and mentally fit with Budokon –  Visit the Play Zone and discover how this Mixed Movement Arts System can help your youngers get fit while transforming their minds.
And there's much more fun and adventure at our Discover Zone, Learn Zone and Festival Circle.
Check out our Event Map to see where your kids may want to go first.
Plenty of tasty food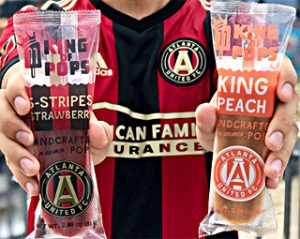 Active minds and bodies are sure to get hungry.
We've lined up a dozen food vendors to keep everyone fed and hydrated, from the Marathi Tadka food truck to King of Pops.
Event details
Charlotte Kids Fest will take place 11 am-4 pm Saturday, Sept. 22, near UNC Charlotte's the North Tryon Street entrance at Institute Circle.
Kids Fest location – All activities will take place along Robert D. Snyder Road, which runs parallel to North Tryon Street. Map
Website – Full event details are on the website, charlottekidsfest.org.
FREE – The event is free. Food trucks will sell food and drink.
Free parking – Free parking is available at the CRI Parking Deck, located at 9100 Robert D. Snyder Road. You must enter the campus at the J.W. Clay Boulevard traffic light on North Tryon Street to reach the parking deck. Map
Light Rail – Avoid the parking hassle and ride to Charlotte Kids Fest aboard the LYNX. Get off at the JW Clay Boulevard Station. The walk to Kids Fest is under 5 minutes. Station map
Thanks to the great Kids Fest sponsors and friends
An event this big also takes strong corporate and non-profit support. We are fortunate to be so blessed.
Title Sponsor: TIAA
Presenting sponsors: University City Partners and UNC Charlotte
Zone sponsors
Arts and Science Council
Atrium Health
Charlotte Area Transit System
Walmart
Friends of the festival
Atlantic Bay Mortgage Group
BlueCross BlueShield
Charlotte Solid Waste Services
Charlotte-Mecklenburg Schools
Chick-fil-A University Place
Edward Jones
OrthoCarolina
Sullivan Family Chiropractic and Massage Therapy
TruGuard
Truliant Federal Credit Union
Additional support
Charlotte Regional Visitors Authority
Morningstar Mini-Storage
Parks Chevrolet
The YMCA