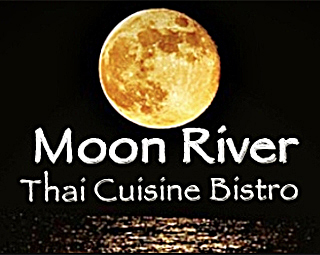 By Luis Martinez
Moon River Thai Bistro is a delicious new Thai restaurant located near campus at 9211-1 North Tryon Street in the Mallard Pointe shopping center. The prices are amazing, the food delicious, and the service remarkable.
The family that owns Moon River moved from Thailand to America – starting at Burlington, NC. They opened a Moon River Thai Bistro in Danville, Va., and recently moved to Charlotte and opened their second Moon River here to be close to two children attending UNC Charlotte. Go 49ers!
Personal service
During my lunchtime visit to the restaurant, the owner explained to me the different levels of spice available in the dishes, and the differences between the dishes they offer.
Once seated, I was given an egg roll with duck sauce dip that was so delicious I wished I could have another!
After looking through the menu and trying to decide on which lunch dish to pick from the many styles and types of dishes offered, I decided on the Chicken Pad Thai.
Lunch was fast and delicious
I didn't wait long for lunch, as the food was prepared quickly, which I was thankful for because of how hungry I was!
The aroma of the restaurant was amazing. All you could smell were different delicious dishes being cooked in the kitchen.
After receiving the Chicken Pad Thai, I quickly realized it was the best Pad Thai I've had to date!
If you're in University City and are looking for some amazing Thai food, check out Moon River Thai Bistro. You'll be glad you did!
Want to visit?
The Moon River Thai Bistro is at 9211-1 North Tryon Street, in the Mallard Pointe shopping center.
See the menu on the Moon River website.
Open 11:30 am-3 pm and 5-10 pm weekdays; 5-9 pm Saturdays; closed Sundays.
Phone: 980-474-1790