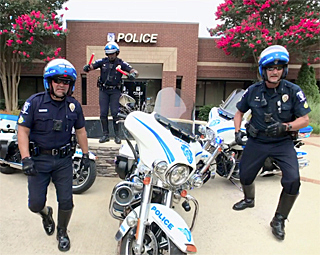 The Lip Sync Challenge sweeping US police departments has turned CMPD into YouTube stars, with 2.4 million views of officers, staff and Police Chief Kerr Putney dancing to Justin Timberlake's infectious "Can't Stop The Feeling."
University City police, locations and even Chick-Fil-A's Rob Rogers figure prominently in several scenes – and that's not a coincidence: Two of the University Division's community coordinators, Chad Webster and Jason Peetz, helped lead the effort and oversee the filming.
Chief Putney gets the opening shot, but right after that you'll spot Webster and Peetz at one of their favorite hangouts, the University Place Chick-fil-A; motorcycle patrol officers dancing in front of the University City Station at University Executive Park; and Webster crooning, "Nowhere to hide when I'm getting you close," as he pulls an imaginary lasso that leads him Rogers in a feigned traffic stop.
Of course, lots of other Charlotte locales and even Lake Norman also get into the act.
Plenty of media coverage
Local media have given the Lip Sync video plenty of coverage, including Interviews of Webster, Peetz and officer Darrion Eichelberger by WBTV.
Though the people in the video appear to be dancing and "sync'ing" with gusto, Peetz told WBTV, it took a lot for most officers to do.
"I think everybody understood the bigger picture – that humanizing the badge is a big thing," Peetz said.
70,000 views in just one day!
The video hit a home run, getting 70,000 views its first day and more than 5,200 comments in the three weeks since its release. Almost all are like this sample:
"Fantastic production folks! Y'all make us so proud of our city and of You! Please stay safe!"
"I love how everyone from the chief to the explorers, dispatch, motors, marine and id are included! Well done my brothers and sisters in blue"
"Way to highlight all of the departments and the city's landmarks and locations. Maybe this is the video we should have sent to Amazon when we were trying to land their Headquarters?"
Watch the video – and many others!
Watch the CMPD Lip Sync Challenge video, Drop The Beat.
Sample the hundreds of entries flooding YouTube, including top entries from Seattle and Pickens County, Ga.
Seattle's entry will blow you away, performed by a cast of hundreds, to what must be Seattle's Hip Hop anthem, "Downtown."
Before you watch the totally different and moving Pickens County Sheriff's Department entry, read USA Today's news article about it. When you watch, be prepared for tears.