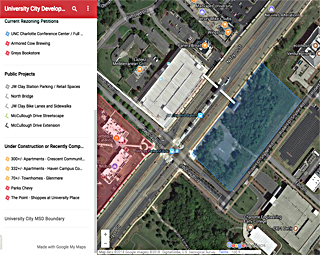 Ever wonder who's building in that newly cleared site or what's being planned next to the brand-new rezoning sign?
A new map created by University City Partners and available to the public has that information and more, including links to rezoning documents, public hearing dates and locations of street improvements.
Click here to view the map.
UCP Planning and Development Director Tobe Holmes and UCP intern Luis Martinez spent about 10 hours building the database-driven Google map. Holmes plans to update it monthly.
"We aimed to expand the tools through which people can be informed about changes in University City and potentially share their opinions with regard to active rezoning petitions," Holmes explained.
Specific map subjects include:
Current land development projects under construction, planning or permitting.
Pipeline projects (in the works).
Current rezoning petitions (such as the university's conference center and Armored Cow Brewing at University Place).
Public projects (I-85 North Bridge, retail space at JW Clay Station Parking Deck, etc.).
Under construction.
The boundary of the University City Municipal Service District.
Have a question, correction or suggestion?
To comment on the map, email University City Partners at info@universitycitypartners.org.