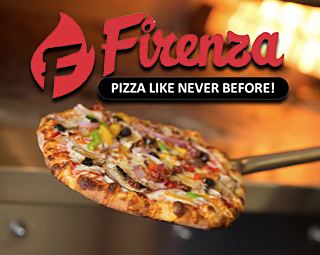 University City's newest restaurant, Firenza Pizza, opens June 5 near IKEA in the Belgate shopping center.
The Virginia-based chain offers dough made in-house daily, nearly 40 toppings, and a 5-minute bake time in an open-flame stone-hearth oven.
The new Firenza is located at 6925 University City Blvd., Suite 420, midway between I-85 and IKEA Boulevard.
Grand Opening specials
During the restaurant's grand opening June 5-10, guests who donate $2 to either EmpowHERment or Safe Alliance Charlotte-based non-profits will receive their choice of a free "signature" 10-inch pizza or a free four-topping 10-inch pizza.
In addition, the first 10 people in line on Friday, June 8, and Saturday, June 9, at the new Firenza location will get a free pizza for a year, says the restaurant's grand-opening promotional materials on its Facebook page!
On the menu
Firenza offers 10- and 14-inch pizzas including several signature pies such as the Firenza, made with classic tomato sauce, mozzarella and provolone cheeses, pepperoni, Italian sausage crumbles, artichoke hearts, red onion, a pepper medley and fresh garlic.
Customers also can craft their own from their choice of nearly 40 toppings and  nine "finishes," such as fresh basil or a buttermilk ranch drizzle. Gluten-free pizza dough is available.
The restaurant also offers dinner salads, sides sand desserts.
Firenza is growing
This is Firenza Pizza's second Charlotte area location. The first opened in 2017 in the Northcrest Shopping Center near Northlake Mall. Franchise owner Emily Wagner plans to open a total of five Firenza Pizza restaurants in the Charlotte area.
Firenza Pizza is in a new retail area of the Belgate Shopping Center, located near University City Boulevard and IKEA. The new retail area also includes Starbucks Coffee, AT&T, Firehouse Subs, Venice Nail Bar and Chipotle. Another restaurant, Smallcakes bakery, will open here later this year.
Want to go?
Firenza Pizza in University City will open on June 5.
6925 University City Blvd. in the Belgate Shopping Center. Directions
Hours: 11 am-10 pm daily
704-249-6529