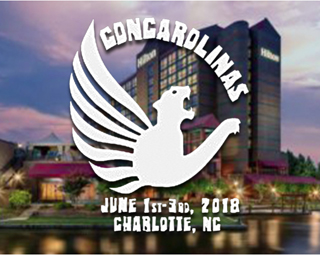 Put on your best sci-fi/fantasy costume, grab your autograph pen and head to Hilton Charlotte University Place this weekend for the annual escape into the surreal: the Con Carolinas convention.
Among the star attractions: WWE Hall of Famer Adam "Edge" Copeland, who portrays Kjetill Flatnose in the History channel hit series "Vikings."
Also on the program: a Short Film Festival, costume contest, art show, LARP sessions, gaming, plus opportunities to meet celebrities and take workshops ranging from "Writing Fan Fiction" to "Injury Simulations".
Copeland heads the list of over 100 celebrities scheduled to appear at ConCarolinas. He will appear Sunday, June 3, only. Copeland's panel will be at 11 am in the Lakeshore Ballroom, followed by autograph sessions.
Seating is limited. Bring items for Copeland to autograph (for a fee, of course).
Other headliners scheduled to appear include Seanan McGuire, winner of the Hugo and Nebula Award; 2018 Music Guests of Honor Frenchy and the Punk; and Costume Special Guests SyFy Face Off's Roy Wooley and RJ Haddy.
Want to go?
ConCarolinas will be June 1-3 at Hilton Charlotte University Place, 8629 JM Keynes Drive, Charlotte.