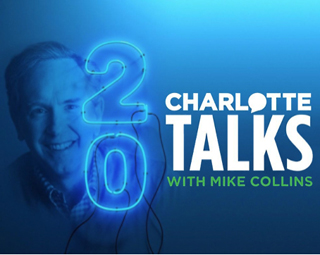 "Good morning, I'm Michael Collins and this is Charlotte Talks."
If you listen even occasionally to University City-based WFAE 90.7 public radio, you have heard something like that introduction from time to time over the past two decades. Collins marked the 20th anniversary of his daily news program on April 20 with classic Mike Collins humor:
"Will there be cake? Will there be ice cream? I don't know, but we do have noisemakers! Woo Woo!" he quipped.
Within a few minutes, the revelry was over and his regular Friday guests, veteran reporters from The Charlotte Observer, Business Journal, Spectrum News and WFAE, were holding their weekly Local News Roundup, just like always.
A place for learning and understanding
"A deadly prison riot in South Carolina ends with seven inmates dead and 17 injured. City Council's Lawana Mayfield turns heads after a post she made on Facebook speculating that the 9-11 attacks weren't real. Vice President Mike Pence visits Charlotte on Friday to stump for Robert Pittenger. And another chapter in the unfolding Atrium health saga. All that and more on the 20th Anniversary edition of Charlotte Talks," Collins intoned.
Leave the crazy toasting and yucking it up to other TV and radio personalities and, well, to Charlotte Squawks (more on that in a minute).
Yes, friends did throw Mike and Charlotte Talks a party on April 19 at The Foundation for the Carolinas. When you've interviewed most of Charlotte's cultural, political and civic leaders since 1998, you do deserve some thanks or perhaps roasting.
Théoden Janes interviewed Collins for The Charlotte Observer a few months ago. Collins explained the show's beginning. He had worked at WBTV for several years when he approached WFAE about his idea for Charlotte Talks.
"I wanted it to be the talk show of record, if there is such a thing – a place that if something's happening in Charlotte, we're going to talk about it, and you're going to come away understanding it better than you would have if you didn't listen to us."
And occasional humor for good measure
The show debuted on April 20, 1998, featuring Collins interviewing Mecklenburg County Commissioner Joel Carter and his challenger in the upcoming election, Edna Chirico (who later won).
As Collins explained on air two weeks ago, "No recording of that first program exists, a clear indication of the confidence placed in the longevity of this program." The gentle laughter by his four friends and Collins' subtle humor are also Charlotte Talks trademarks.
You hear it even in his opening to Charlotte Talks, Day 2, on April 21, 1998:
"Good morning, I'm Michael Collins, and This is Charlotte talks, which began yesterday for those of you who were on vacation or something, and we're going to be exploring all kinds of issues on this program in the upcoming months and years, hopefully, here on WFAE, and thank you for joining us."
A who's who of guests
Charlotte Talks has not only endured but flourished on WFAE, as Collins has invited countless leaders and influencers to discuss their ideas and answer his questions. Collins says he prepares several hours each day for the interviews.
Guests just in the last two weeks have included Mecklenburg Schools Supt. Clayton Wilcox, former Bank of America Chairman and CEO Hugh McColl, best-selling NC author Charles Frazier and election primary opponents Mecklenburg District Attorney Spencer Merriweather and his challenger, Toussaint Romain.
It's likely that most guests wonder at some point whether something they say or do will provide fodder for Collins's other job – creating the endearing and equally enduring annual production of Charlotte Squawks.
Fodder for Charlotte Squawks?
"Charlotte Squawks 14: O Fourteena!" will run May 31-June 24 at the Booth Playhouse. Can you think of any other locally produced live show that can fill Booth Playhouse for 25 days?
Reads the on-target marketing for the show, "What is Charlotte Squawks? It's Saturday Night Live meets Broadway meets our beloved Queen City!
"Celebrating the fourteenth edition of Squawks, the creative team of Mike Collins and Brian Kahn collaborate with the area's most talented performers to make fun of pop-culture, sports, life and politics both local and national.
"We could tell you what you should expect, but part of the fun of the show is anticipating who and what will be squawked!"
More about Charlotte Talks, Charlotte Squawks and Mike Collins
Charlotte Talks airs 9 am Monday-Friday, 9 pm Monday-Thursday and 7 am Saturday on WFAE 90.7 FM.