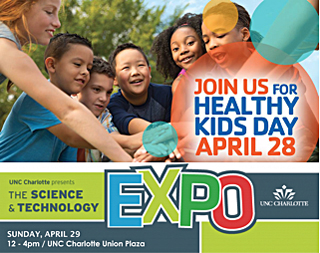 The kids will love two big events this weekend in University City. Healthy Kids Day on April 28 will let our children run, jump, dance and bike ride while adults learn about YMCA summer camp, fitness and swim lessons.
The UNC Charlotte Science and Technology Expo on April 29 will challenge young minds with dozens of activities and displays.
Healthy Kids Day at Keith Family YMCA
Start the weekend with Healthy Kids Day at the Keith Family YMCA. From 10 am to 2 pm Saturday, the kids can enjoy free games, fitness activities, a bike-safety activity and snacks.
Parents can spend time with YMCA staff learning about the many programs available for youngsters this summer, including the summer day camp and swim lessons.
Keith Family YMCA is at 8100 Mallard Creek Road near West W.T. Harris Boulevard. Directions.
To learn more about the event and all of the Y's programs, visit the Keith Family YMCA website and Facebook event page or call 704-716-6700.
Science and Technology Expo lets kids touch stars, science, tech
The Science and Technology Expo, noon-4 pm Sunday, April 29, remains the University's largest NCSF event and its grand finale, closing out the festival from noon to 4 p.m., Sunday, April 29.
The expo includes an ever-expanding set of activities, including robotics, rocketry, virtual people, live animals, lab experiments, explosive chemistry, exotic plants, fire engines, race cars, boats, and an interactive artificial intelligence and lifelike machine or two.
The event is for the science-curious of all ages, featuring 100-plus hands-on activities and presentations. Many of these offer public-friendly glimpses into some more-than-cool current research work, developed by UNC Charlotte science and technology departments and labs.
Many groups helping stage Expo
The April 29 expo has grown to be much more than a showcase of University expertise — a host of industry and community organizations is involved in what has become a regional festival of ingenuity and education.
Among this year's partnering organizations are STEM-oriented institutions such as Discovery Place, the N.C. Zoo, Carolina Raptor Center, Great Outdoors University (N.C. Wildlife Federation), Makerspace Charlotte, Charlotte IOT, NASCAR Hall of Fame, N.C. First and First Tech Challenge Robotics (100 Black Men of Charlotte).
Don't miss these special shows
As the expo has grown over the years, a number of distinctive "shows within the show" have developed, including chemistry professor Tom "Dr. Boom" Schmedake's always popular Combustion Chemistry Show; a special Robotics Expo inside the adjacent Popp Martin Student Union; and a short workshop in ethical hacking, presented by a student cybersecurity group
New this year (since the NCSF's theme is "Science and Food"), a chef from JWU-Charlotte will explore the anatomical science and culinary art of meat, in a series of "Science of Pork" demonstrations/performances. A food truck will supply free samples after each show.
Directions and links
Location: The UNC Charlotte Science and Technology Expo will be located on the University's lower mall, across from the Popp Martin Student Union and adjacent to Halton Arena (Barnhardt Student Activity Center).
Free parking: All campus parking is free on Sundays (the Student Union Deck is the recommended parking venue).
Free admission
More Expo information: https://ncsciencefestival.uncc.edu