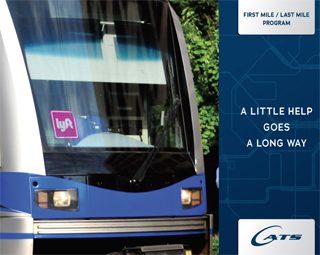 Do you want to commute by LYNX but have no station near your University City business or residence? A new partnership between CATS and Lyft may provide the answer.
Charlotte Area Transit System and Lyft, the on-demand transportation service, have partnered in a pilot project to connect riders to the first and last miles of their University City trips.
CATS will provide a $4 contribution toward the Lyft trip fee to and from the JW Clay Boulevard Station for trips taken within a defined area that includes University Research Park and the North Tryon Street business and education district.
Lyft ride could cost less than $2 per person
If you share the Lyft ride with three others, the cost for Lyft's service should be well under $2 per person one way to Innovation Park (2 miles), TIAA (2.5 miles) and other URP destinations. A ride-cost estimator is available on the Lyft.com website.
This fee is in addition to the cost of the LYNX pass.
This discounted Lyft ride service will benefit both people riding LYNX to University City and residents within the service district wanting to ride LYNX to other destinations.
A similar program is available between the Parkwood station and the North End/Innovation Corridor district near uptown Charlotte.
Lyft program requires LYNX passes
LYNX riders using a monthly pass purchased via the CATSPass mobile app can get up to 40 discounted Lyft trips per month. The monthly unlimited-ride
LYNX pass costs $88 ($44 for seniors +62 and ADA-disabled passengers).
LYNX riders with other current valid CATS/LYNX passes can get 2 Lyft trip discounts per month, while supplies last.
Learn more
Visit the first-mile webpage for details about the new program and the program boundaries.
Visit Lyft.com's Charlotte website for details on how to use Lyft and to access the ride-cost estimator.