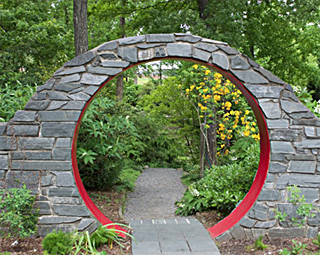 UNC Charlotte is always green (school colors, right?), but even more so in April as the campus turns Earth Day into Earth Month! Among the many events:
• Spring plant sale – April 13-14
• In the Company of Trees: Garden stroll and readings – April 17 and 22
• University Earth Day Festival – April 18
• Botanical Gardens and Verse – April 19 event with poetry, writing and readings
• Gardening for our butterflies, songbirds and bees – April 19 class
Here are details:
Botanical Gardens Spring Plant Sale
9 am-3 pm April 13-14 at the campus Botanical Gardens
Shop from an exceptional array of plants at the Botanical Gardnens' largest sale of the year. You'll find the best selection of native plants in Charlotte, colorful annuals, wildflowers, perennials, trees and shrubs, plus harder-to-find exotics, carnivorous plants, tropicals, herbs and select veggies!
This is a great opportunity to ask gardening questions, too! All proceeds support the operations of the gardens and greenhouse.
In the Company of Trees: Tree Stories from Donald Peattie
1 pm April 17 and 2 pm April 22, starting at the Botanical Gardens greenhouse
Join environmental educator Carla Vitez for a unique walk in the Van Landingham Glen. Get to know eight of the gardens' most majestic native species through the words of naturalist Donald Peattie, as Carla's interpretation blends botany, history and the human connection to these forest icons.
University Earth Day Festival
10 am-2 pm April 18 at the College of Health and Human Services Plaza (across from the Popp Martin Student Union)
The entire community is invited to campus to participate in this event, which features student organizations, campus entities and Charlotte-based nonprofit organizations committed to making the environment and community better and healthier.
Gardens and Verses: Earth Day Celebration at the Botanical Gardens
11 am-2 pm April 19 at the Botanical Gardens
The Department of English and the Botanical Gardens have teamed up for a unique Earth Day event. Stations will be placed throughout the gardens, offering attendees the opportunity to learn how to write in specific genres of poetry as well as to contemplate the natural settings the Gardens have to offer.
A literary scavenger hunt will familiarize participants with the wide range of plants in the gardens.
There will be literary readings and an "open mic" for those who wish to share original work. Light snacks will be provided. The event is free.
Gardening for Earth Day: Butterflies, Songbirds and Bees
10 am-noon April 19 at McMillan Greenhouse
Celebrate Earth Day by taking action. Learn from instructor Don Boekelheide how small changes in your gardening practices can create native habitats for butterflies, songbirds and bees. Cost is $30.