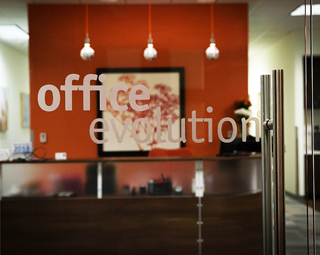 Office Evolution Charlotte – offering 24/7 co-working space, private office space, virtual offices and business services – is officially open. The public is invited to attend the grand opening celebration and tour the facility, 5-8 pm April 18. (RSVP please)
Located at 10926 David Taylor Drive, Suite 120 in University Research Park, the new 6,104-square-foot business center offers small businesses and entrepreneurs professional, on-demand office space – from co-working space and 25 private furnished offices to several conference rooms, business mailing and telephone answering services, and administrative support.
Special offer for employees of non-profits
As part of its opening and to give back to the community, Office Evolution Charlotte has launched a free membership program for Charlotte-area non-profit employees.
Each member will receive a "Shared Workspace" membership for up to one year (valued at nearly $1,200). The Shared Workspace membership provides unlimited access to the business lounge, business class WiFi, free coffee and tea, and assistance of a receptionist.
"We are excited about our official opening being in University City and providing small-business owners, professionals and entrepreneurs on-demand office space and everything they need to successfully grow their business," said Jason Ward, franchise owner of Office Evolution Charlotte.
"We are equally excited about giving back to the community with our free non-profit membership program, which is ideal for members who normally work from home or a coffee shop but would benefit from a more professional work environment."
The first of several Office Evolution locations planned for the Charlotte market, this site at Two Resource Square occupies the first floor for easy access; features state-of-the art offices and co-working spaces; offers ample parking; and is conveniently located near primary residential areas, major commuting corridors and retail. Office Evolution members can use all local and national locations.
To become an Office Evolution Member and to reserve space, visit officeevolution.com/charlotte or contact Jacelin Wood at CharlotteUniversity.NC@OfficeEvolution.com or at 704-251-8443.
About Office Evolution
Office Evolution is a Colorado-based national B2B franchise offering co-working spaces, virtual office services and fully furnished offices and suites with more than 108 locations open and under development across the country. Visit www.officeevolution.com for more information.