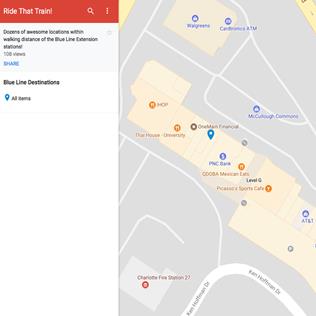 Great minds think alike, which may explain why several websites including ours have posted guides to restaurants, bars, shops and other destinations along the new LYNX Blue Line Extension.
We encourage you to check out each guide, then let us know what you like and what's missing so we can make improvements. In the end, we all win when everyone rides the LYNX.
Ride That Train! interactive map
Produced by Gökotta and Sustain Charlotte, in partnership with University City Partners, this interactive map features more than 70 restaurants, coffee shops, stores, libraries and other attractions within a 15-minute walk of the stations.
More locations will be added over time. Check it out!
Charlotte Agenda Points of Interest Map
Charlotte Agenda has assembled a map listing 41 points of interest within walking distance of the 11 LYNX stations between Ninth Street and UNC Charlotte. Check it out!
Charlotte Magazine interactive guide to the LYNX Blue Line Extension
This is not exactly a map, but it functions the same way, with links to Charlotte Magazine's recommendations for the best places to eat, drink or fine entertainment at each stop. Check it out!
The Charlotte light rail drinking trail along the new LYNX extension
Charlottefive.com has prepared this guide to 32 places to stop and sip while traveling between UNC Charlotte and uptown. If you use this guide, you may never get to uptown. Then again, you probably won't care! Check it out!
Download the University City Mobility Map
The LYNX launch on March 16 ushers in a revolutionary car-free mode of transportation through University City's business district.
We have prepared a free Mobility Map guide for the transit line and transit parking decks, as well as several other ways to get around without cars.
The map also shows University City's 12 miles of bike-friendly greenways, regular and express CATS bus service, Gotcha bike-share stations, Zipcar station and free Niner Transit Bus Service. Download map