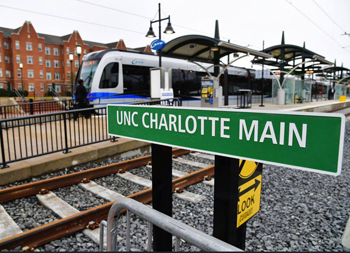 The big day is Friday! The people at Charlotte Area Transit System are so excited about this monumental achievement that they've organized not one but three ribbon cuttings:
10 am at UNC Charlotte's Main Station,
10:15 am at the 36th Street Station in NoDa, and
10:25 am at the 9th Street Station in Uptown.
The trains start rolling, and the festivities keep growing at several stations along the route.
Several groups have entertainment and events planned near stations along the LYNX line including UNC Charlotte's Main Station, the 36th Street Station in NoDa, the 9th Street Station in uptown and the East/West Blvd Station in Historic South End. Activities throughout the day (and into night, in some cases!) range from Food Truck Friday at South End to live entertainment and local brewery tents in NoDa.
Want to ride into history? Here are details
The first "public" LYNX train will depart UNC Charlotte's Main Station at 10:21 am Friday.
The first "public" LYNX train destined for UNC Charlotte from the I-485/South Boulevard Station, departs at 9:45 am.
Trains will start operating on their regular schedule at that point.
If you like crowds, you will love this weekend!
Be aware that the LYNX trains are likely to be crowded all weekend.
Charlotte will have many visitors attending the NCAA Men's Basketball Tournament at uptown's Spectrum Center on Friday and Sunday.
Expect lots of LYNX riders on Saturday, as well, as people travel to the St. Patrick's Day parade and Charlotte Goes Green Festival in uptown.
Make sure you have a ticket to ride!
Even on this historic first weekend, everyone must have valid passes or tickets to ride the LYNX.
CATS encourages us to get tickets in advance online at ridetransit.org or via the CATS Pass Mobile Payment app.
Here's how to get tickets, passes and the CATS AP.
You can also purchase tickets and passes at any LYNX station via the Ticket Vending Machines.