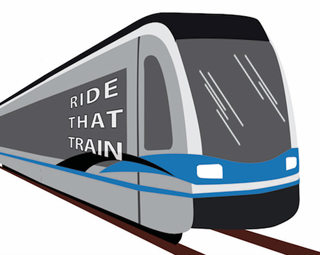 In just 10 days, the LYNX light-rail trains start public service between UNC Charlotte and Uptown. Here's the latest news on special events, tools for LYNX riders and alerts for the general public, plus recent news reports about how our light-rail service is already transforming University City.
Transit Information Meeting on March 13.
Get the latest news about our soon-to-start LYNX Blue Line Extension at this meeting from 9-10 am March 13 at the Alexander Village Clubhouse in University Research Park.
CATS staff will share the latest news about the LYNX line and March 16 public launch, including new and revised city bus routes.
University City Partners will provide maps showing transit routes and connections in University City.
The clubhouse is at 9224 Graham Ridge Drive (off Senator Royall Place near Mallard Creek Church Road). DIRECTIONS
Join the LYNX celebration with these events
The LYNX light-rail trains open to the public on Friday, March 16, and we have several events to help you and your family enjoy this momentous event in the life of University City.
Among the activities: free rides for kids, free coffee and donuts for commuters, and St. Patrick's Day special promotions at businesses near the North Tryon Street stations. Details.
Mobility Maps are ready – Download yours now!
The LYNX launch on March 16 ushers in a revolutionary car-free mode of transportation through University City's business district.
We have prepared a free Mobility Map guide for the transit line and transit parking decks, as well as several other ways to get around without cars.
The map also shows University City's 12 miles of bike-friendly greenways, regular and express CATS bus service, Gotcha bike-share stations, Zipcar station and free Niner Transit Bus Service. Download map
Safety tips for drivers, pedestrians and cyclists
With LYNX operating 20 hours each day, most of us will encounter light-rail trains from time to time as we cross North Tryon Street – whether by car, by bicycle or on foot.
To make sure your next track crossing goes smoothly and safely, the city of Charlotte has developed a Rail Safety webpage with tips for pedestrians, cyclists and drivers.
You will also find a video on how to prevent your vehicle from getting caught or hit by the many crossing gates. Watch the video.
UCity Small Business Networking event on March 20
Join University City Partners on March 20 at the Camino Community Center for breakfast (on us), networking and the latest news about LYNX-related business development and Charlotte's small-business resources.
Pick up copies of our new Mobility Maps, too. These handy guides show how to get around the University City business district by LYNX, city bus, bicycle, bike share, car share and free campus shuttle bus.
The event will take place 7:30-9 am at the Camino Community Center. The center is on Stetson Drive, next to the Waffle House restaurant and a short walk from the University City Boulevard Transit Station and parking deck.
LYNX makes headlines
The Charlotte Observer: Blue Line extension means 'we won't recognize this place in 10 years' – MORE
WFAE 90.7 FM: What will light rail mean for University City and UNC Charlotte? – Charlotte Talks host Mike Collins explores this question with University Partners Executive Director Darlene Heater, Planning Director Tobe Holmes and UNC Charlotte Chancellor Phil Dubois. Hear the March 6 show's podcast.
Experience the LYNX Revolution through 49er lenses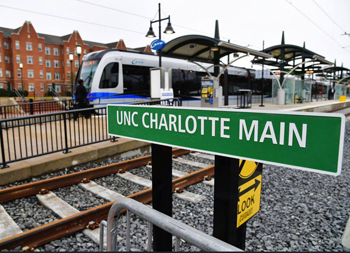 Who better to chronicle this transformative time for University City than our UNC Charlotte students, especially since the first and last stops on the Blue Line Extension are next to university buildings?
To get our students to train their smart-phone cameras on the LYNX trains, University City Partners and Greek Life are sponsoring a photo contest March 16-24.
Photos will be posted on Instagram, and winning entries will be reposted by Charlotte Agenda.
Watch the action evolve on Instagram at #ridethattrain.