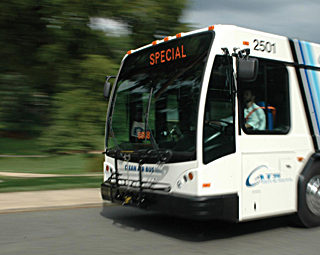 Beginning March 19, the Charlotte Area Transit System will change 20 bus routes and add, discontinue or move more than 700 stops. Get all of the details at two CATS transit fairs this week, including one 10 am-6 pm Thursday at University City Regional Library.
The routes are being revised to improve service and add connections to the LYNX light-rail line that will begin operation on March 16 from the Seventh Street Station in Center City to University City and UNC Charlotte.
Affected routes include the following: 3, 4, 11, 13, 21, 22, 23, 28, 29, 39, 50, 54, 59, 97, 98, 99, 201, 204, 211, & 232.
Fair locations and format
CATS will hold transit fairs on Thursday at two locations:
Charlotte Transportation Center – Food Court at 310 E. Trade St. from 7 to 9 am.
University City Regional Library at 301 E W.T. Harris Blvd. from 10 am to 6 pm.
Each fair will present the same information in a drop-in format, where visitors can come anytime. CATS staff will review the changes, explain the new light-rail service and answer questions.
View map of route changes
Click here to view a detailed map of the upcoming changes.
Learn about "Envision My Ride"
CATS staff at the transit fairs will also explain Envision My Ride, an initiative to redesign the current bus system. Riders will be able to learn about current recommendations for redesigning the bus system and offer suggestions to help guide future development.