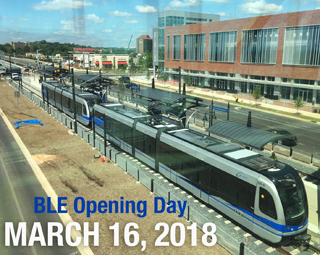 The big day is nearly here! The LYNX Blue Line Extension will officially open for public service on March 16.
With the NCAA Basketball Tournament having first-round games at the Spectrum Center on the same day, expect a hefty dose of March Madness if you plan to take a ride!
CATS chief executive John Lewis announced the opening date for service at the Charlotte City Council's meeting on Jan. 7 – 4 1/2 years since the groundbreaking was held near the future Ninth Street Station in Center City.
Once service starts, riders will be able to ride the LYNX line between UNC Charlotte and I-485 near Pineville by way of NoDa, Center City and South End.
The total run will take about 45 minutes, with trains arriving at each station every 15 minutes during most times of the day and every 7.5 minutes during rush hour.
Daily testing starts Jan. 21
Though you can't get on board until March 16, CATS will begin testing the 9.3-mile Blue Line Extension on Jan. 21, with trains operating each day through March 15 as frequently as they will once service starts on March 16.
Useful links