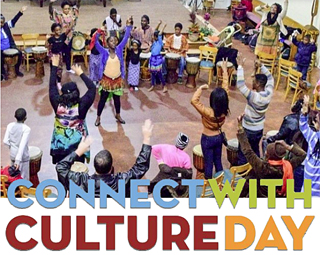 Explore diverse arts, science and history experiences for free in University City and throughout Charlotte-Mecklenburg on Jan. 26-27 – via Connect with Culture days.
Dozens of performances, science programs, history events and museum visits will be offered for free courtesy of  the Arts and Science Council and sponsors, including University City Partners.
ASC's annual Connect with Culture Day provides the community with free access to arts, science, history experiences across Charlotte-Mecklenburg.
Now in its fourth year, Connect with Culture Day has added an additional day of experiences and opportunities to engage with the cultural community in fun and creative ways.
Concerts, performances and more on Friday evening, Jan. 26
Free cultural experiences from 6:30 to 8:30 pm Jan. 26 will kick off the weekend. Venues include Clayworks, NoDa Brewing Company, Resident Culture Brewing and Lenny Boy Brewing.
Cap off the evening at the Mint Museum Uptown at Levine Center for the Arts' Latin Concert Series with Mariachis Gavilanes Gabriel at 9 p.m. and access to the galleries from 6 to 11 p.m. – free and open to the public.
50-plus activities plus free entrance to museums and historical sites Jan. 27
On Saturday, Jan. 27, more than 50 culture experiences will be offered throughout Mecklenburg County, including several in University City.
Museums open to the public for free will include Bechtler Museum of Modern Art, Mint Museum Uptown and Randolph, Levine Museum of the New South and Carolinas Aviation Museum.
Free tours of historic sites will be offered at the James K. Polk Historic Site, Carl J. McEwen Historic Village, Historic Rosedale and Matthews Heritage Museum.
'Cultural stations' in many neighborhoods on Jan. 27
"Cultural stations" placed at Charlotte Mecklenburg Library branches, public schools and other community facilities to host more than 50 free cultural experiences, including:
A musical math lesson at Reid Park Academy in West Charlotte by The Number Drummer;
An African dance class at Camino Community Center in University City with SHEA Movement African Arts;
Starry Starry Night at First Baptist Church – West in Northwest Charlotte by Discovery Place Science;
Afro Funk by A Sign of the Times at Camp North End; and
Environmental education opportunities at Carolina Raptor Center, EnergyExplorium on Lake Norman and Wing Haven in Myers Park.
Dance, drums and more in University City
Three locations in University City will host cultural experiences on Jan. 27.
Storytime Reading with Ballerina Claire Hutchinson
Ballerina Claire Hutchinson of the Charlotte Ballet will read several of her favorite children's stories. Children of all ages are encouraged to dress-up for this fun and engaging story time.
10:15-11:15 am at University City Regional Library, 301 E. WT Harris Blvd.
For ages 3 – 7
African Drum Class with Shae Movement African Arts
SHAE Movement African Arts is dedicated to "Sharing The Heart of African Energy" through West African dance classes, workshops, and performances.
Noon-12:45 pm at the Camino Community Center, 201 Stetson Drive (near North Tryon Street Waffle House)
For all ages
YAPRE demonstrates bomba dances
Experience two bomba dances from Puerto Rico, presented by YAPRE ("Yo Amo Puerto Rico Eternamente" or "I love Puerto Rico eternally". The first dance will be sicá, the bomba form that has made it deepest into popular music. You can hear this rhythm in salsa, Latin jazz and other genres of popular music. The second dance will be yubá.
1:30 p.m. – 2:30 p.m. at the Camino Community Center, 201 Stetson Drive (near North Tryon Street Waffle House)
For all ages
Pop Up Performances by Opera Carolina
Members of Opera Carolina will offer exciting and expressive musical stories designed to awaken your senses, tug at your heartstrings and open your eyes to the beauty of Grand Opera.
Sorry, we can't tell you the time. It would ruin the surprise.
Location: IKEA (8300 Ikea Blvd., Charlotte 28262)
For all ages.
Dances of India
Immerse yourself in the experience of traditional Indian classical and folk dances. Movements tell the story of ancient India through costumes, dance dramas and music. Featuring internationally acclaimed performer Dr. Maha Gingrich.
3 p.m. – 3:30 p.m. at the Camino Community Center, 201 Stetson Drive (near North Tryon Street Waffle House)
For all ages
Get all of the Connect with Culture Day details
Visit the Connect with Culture Day webpages for a full schedule of events.
Two important notes:
Come early – Organizers recommend that you arrive early at any event, as space may be limited and ASC cannot guarantee seating.
Some events require registration – Read the calendar of events carefully for all details including registration, if needed.