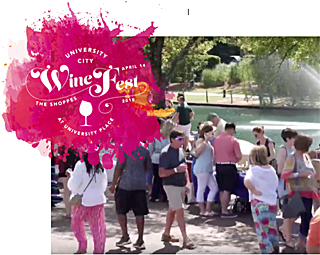 Our 2017 University City Wine Fest drew rave reviews for the plentiful fine wines, good times and tasty food served up lakeside last spring at University Place. Can a festival get any better? Of course! "We are beyond excited to bring this event back to our community in 2018 for year two!" says Darlene Heater, executive director of University City Partners. The Wine Fest will take place April 14 at University Place.
A strong start in 2017
University City Partners and Tim Wallace of The Wine Vault created the University City Wine Fest to complement our community wine culture, promote the wine industry and raise funds for literacy programs at our University City and Sugar Creek public libraries.
Fifteen sponsors joined in the effort, which drew hundreds of wine enthusiasts to the University Place lakefront on April 22 and raised $5,000 for our libraries.
A vintage year for 2018!
For 2018, we will build on last year's success to craft an even finer Wine Fest: Start with scores of fine wines, offer experts to build appreciation of each sip, serve tasty morsels from nearby restaurants and sprinkle in a unique array of artisan vendors, set amid the springtime beauty of the lake at University Place.
And there's more! New this year will be a local beer garden. This fun festival addition will feature local beers and ciders with beer-garden style seating and live music.
Learn more about the University City Wine Fest
Opportunities for your business
The 2018 University City Wine Fest has many opportunities for businesses seeking to support a worthy and popular event. Organizers also seek high-quality artisan vendors for the event.
Learn more – To learn how your business can benefit from being part of the 2018 University City Wine Fest, contact Darlene Heater at 704-549-4141 or dheater@universitycitypartners.org.