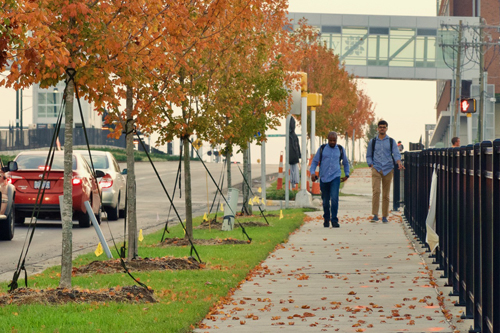 What a difference a year makes! Instead of orange construction barrels, autumn-orange trees line North Tryon Street near the JW Clay Boulevard transit station and parking deck.
The trees and the newly planted shrubs, bulbs and grasses decorating the nearby median are all part of a massive landscaping plan included in the $1.1 billion LYNX light-rail line.
It's been 13 months since we first introduced you to Kourtnie Vincent, the landscape manager for the Blue Line Extension, and her work in crafting nearly four miles of planting beds and tree-shaded sidewalk areas along North Tryon Street from where the LYNX line enters the highway median at Old Concord Road to where it turns onto the UNC Charlotte campus.
She shared the special challenges involved with choosing hardy yet attractive shrubs, grasses, spring bulbs, perennials and other ground cover – 170,000 of them in all – plus 700 trees to add beauty and, where possible, shade for pedestrians and cyclists along future bike lanes and sidewalks.
Contractors planted the trees last winter; now their work crews are installing the beds. You can see their work here or simply by driving North Tryon Street near the UNC Charlotte entrance.
Learn more
For more details on the landscaping project, read our article first published in October 2016.