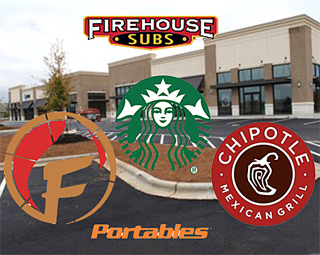 Two retail buildings near IKEA in the Belgate shopping center will soon come to life with shops and restaurants.
Chipotle Mexican Grill and AT&T authorized retailer Portables recently received building permits for their stores at 6925 University City Blvd.
Four other businesses have leased space, and Mi Pueblo Mexican Grill has begun building nearby.
The two retail buildings are located on the east side of University City Boulevard just south of the I-85 Interchange. Starbucks, Firehouse Subs, Firenza Pizza and Venice Nail Bar will also open here. One final 2,100-square-foot space remains available.
About Firenza Pizza
Firenza Pizza is a new national chain with one Charlotte location near Northlake Mall. Firenza's stone hearth-baked pizzas can be customized with nearly 40 toppings. Website.  Facebook.
About Mi Pueblo Mexican Grill
Across the parking area and closer to IKEA, work started recently on a 9,000-square-foot building for Mi Pueblo Mexican Grill. The full-service restaurant will be open for lunch and dinner and also offer catering.
Mi Pueblo bought the 1.6-acre parcel last November for $1.05 million and is spending about $2.3 million on the building.
Mi Pueblo has restaurants in the Galleria in south Charlotte, Afton Ridge in Concord and six other locations statewide.  Website.  Facebook.