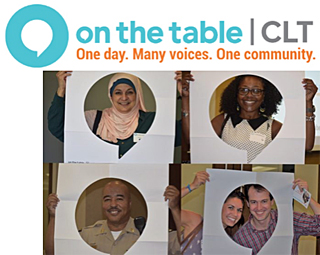 Be part of the first-ever On the Table Charlotte, a day for all Mecklenburg County residents to come together and talk about community.
On Wednesday, Oct. 25, small groups will gather at University City Library and many other locations across the county to exchange ideas and inspire changes that will build a better community.
About On The Table CLT
On The Table CLT seeks to connect people to new ideas, perspectives and ways of thinking.
A community-wide civic engagement initiative, On the Table CLT will bring 5,000 Mecklenburg County residents together in small groups to talk about ways to make our community more connected, dynamic, and opportunity-rich.
Many locations, hosts and unique conversations
Organizers say that each Table gathering will be unique, "with diverse approaches to our overall theme of connection in Charlotte-Mecklenburg." On the Table CLT will take place at more than two dozen locations including:
University City Library, from 5-6 pm in the community room
Newell Park, 6-8 pm at the park pavilion
The Chicken Box, 1331 W. Sugar Creek Road, starting at 6 pm.
See all locations and RSVP here
University City Police division hosting UC Library conversation
The various Table gatherings are sponsored by local groups, including the one at the University City Regional Library that is being sponsored by the University City Division of the Charlotte-Mecklenburg Police.
"Come prepared to share your Charlotte story and have constructive dialogue about your community," says Officer Krista Dodd, community coordinator for Response Area 2. "Engagement is action! When we come together to learn from and with each other, we have the power to impact communities and lives."
Who is leading On The Table CLT?
Organized by Community Building Initiative, and supported by Foundation for the Carolinas and Knight Foundation, On The Table CLT seeks to bring all voices to the table, focusing on a common theme specific to our community.
"We know that big ideas can spring from small gatherings and that people invest in what they help create," the event's website says. "Having many locations will ensure that these organic conversations include diverse voices from throughout the county."
Foundation for the Carolinas is one of 10 community foundations across the U.S. replicating the On The Table initiative this year with funding from Knight Foundation.
Support for On The Table is one part of Knight Foundation's efforts to help cities attract and keep talented people, expand economic opportunity and create a culture of civic engagement. Knight Foundation believes that successful communities are equitable, inclusive and participatory.
Get all the details, and get involved
Visit onthetableclt.org to learn more about the event and where it might lead.