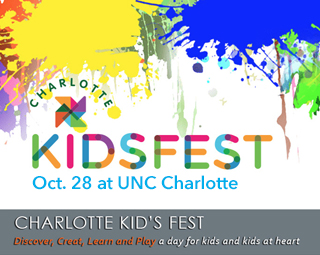 With dozens of activities and performances for youngsters at Saturday's Charlotte Kids Fest, choosing which to attend could be daunting.
One solution: focus your young ones' energy on one of our four action-packed zones: Create, Discover, Learn and Play.
Here's a guide to all the fun and learning being offered 11 am-4 pm at UNC Charlotte.
The first ever
There's never been an event quite like Charlotte Kids Fest on Oct. 28: Dozens of free performances, activities and games all in one place – UNC Charlotte – and all aimed at transforming a child's understanding of the world and what's possible.
Five hours of exciting, entertaining learning
Kids Fest will take place on the North Tryon Street side of UNC Charlotte's main campus, near the football stadium.
All activities are aimed at kids under 10 years old, although everyone may take part. Hundreds of volunteers will offer top-quality activities in four Interest Zones and on the event's main stage to help children create, discover, learn and play.
When the little ones (or you) need a break to refuel, 17 vendors will have food and beverages available to buy.
Explore our Interest Zones
Each interest zone will offer several activities throughout the day.
Create – Visit the Create Zone for fun activities of building and learning. Among the activities: balloon creations, Lego robotics, magic and juggling. Full schedule
Discover – Enjoy several types of performing arts in the Discover Zone. Among the arts groups who'll work with the kids Visions Gymnastics and Dance, Musical Minds NC and Charlotte Performing Arts Academy. Full schedule
Learn – Enjoy book readings and science demos in the Learn Zone. Among the activities: Story Book Character Reading, Just Perfect Kids Book Reading, and book reading with Criss Cross Mangosauce. Full Schedule
Play – Get moving and be healthy with activities such as NC Yoga Bar and Hula Hoop Class. Full Schedule
On the Main Stage!
The Main Stage will offer performances throughout the day, including musicians from the Charlotte Symphony, Hip Hop Orchestrated and a Super Hero Meet & Greet. Full Schedule
Thanks to our many sponsors
Making Kids Fest possible are Title Sponsor TIAA; Presenting Sponsors University City Partners and UNC Charlotte; Zone Sponsors Carolinas HealthCare System and Duke Energy; and Friends of the Festival Arts and Science Council, BlueCross BlueShield, Charlotte-Mecklenburg Schools, Chick-fil-A University Place, Charlotte Regional Visitors Authority and the YMCA.
Charlotte Kids Fest will benefit the Charlotte Mecklenburg Library Foundation through the generosity of festival sponsors and partners. The foundation exists to help the library create a community where reading, learning, and imagination thrive.
Charlotte Kids Fest details
Charlotte KidsFest will be held rain or shine from 11 am to 4 pm Oct. 28 near the North Tryon Street entrance to UNC Charlotte.
Program schedule: Visit charlottekidsfest.org for the complete rundown of programs including times.
Directions: Use the address of 9100 Robert D. Snyder Road, Charlotte, for GPS directions, or click here.
Parking will be available nearby.