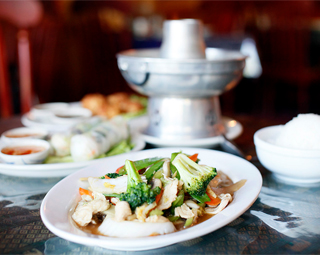 By Michyla Greene:
Thai Taste prides itself on its authentic menu straight from the vibrant southeast Asian country of Thailand. Founded in 1988, the local chain has three locations, including one in the Arbors shopping center on Mallard Creek Church Road, which I visited at lunchtime on a recent Tuesday.
Thai Taste has several daily lunch offerings. You can see each day's selection on the restaurant's website.
Prices start at $8.95 for vegetarian, pork, chicken or beef dishes, including spring roll and Jasmine rice. If you dine in, iced tea and soup are included.
Pad Thai or Pud Thai – either way, delicious
I decided to go with Pad Thai, a staple dish in Thai cuisine. Pad Thai (or Pud Thai, as it is listed on the Thai Taste menu) is a stir-fried rice noodle dish that is commonly served as a street food and in casual restaurants in Thailand.
Pad Thai is sautéed with eggs, bean sprouts, green onions, ground peanuts and Thai spices with your choice of chicken, beef, or pork. Upon ordering you may specify the level of spiciness you wish to have. The spicy levels go from 0 to 5, with 5 being the hottest. I went with level 3.
The Pad Thai was absolutely delicious! It was slightly sweet and contained a myriad of flavors from the traditional Thai spices that it contained.
Beware the spiciness!
Beware of the spiciness, however!!!! Even though I went with a modest level 3, the noodles still managed to cause my nose to run and for it to feel a little extra toasty in the room.
To combat the heat, I ordered Thai Tea – strongly brewed Ceylon tea sweetened with condensed milk. It complemented the Pad Thai perfectly.
Extensive dinner choices
Thai Taste closes for a couple of hours each weekday afternoon, then reopens with a much more extensive dinner menu starting at 5 pm. The full menu is also available 11 am to 10 pm Saturdays.
The dinner menu includes appetizers, salads, soups, curry, steamed pot, stir-fried dishes, three duck dishes and four noodle and fried rice dishes (including, of course, Pad Thai).
Thai Taste – University
2025 E Arbors Drive, Suite 230, in The Arbors shopping center on Mallard Creek Church Road. Directions
704-688-9179
Hours: Lunch served 11 am-2:30 pm weekdays. Dinner served 5-9:30 pm Mondays-Thursdays; 5-10:30 pm Fridays; 11 am-10 pm Saturdays. Closed Sundays.