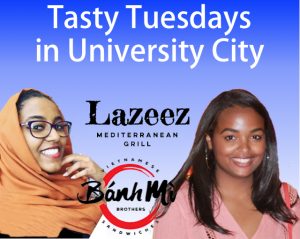 Two of our summer interns, Michyla Greene and Shima Elbashir, recently visited two new restaurants as our treat.
Of course there is no such thing as a free lunch (a great lesson to learn sooner rather than later, right?).
We asked our interns to take notes and write brief reviews of their experiences for our next newsletter.
Here is Michyla's report of  Bánh Mì Brothers, and Shima's and Michyla's take on Lazeez Mediterranean Grill.
Bánh Mì Brothers
By Michyla Greene
Bánh Mì Brothers is a new restaurant in the Grande Promenade shopping center that specializes in the Banh Mi (hence the name), an iconic Vietnamese sandwich, in addition to other Vietnamese favorites.
I decided to give the "Vietnamese burger" a shot with the Grilled Chicken Banh Mi, which was delivered relatively quickly in a basket.
On top of a lightly toasted roll lie mayo and tender cubes of juicy chicken, topped with pickled daikon, carrots, cucumber and cilantro for an added crunch.
Upon my first bite, I discovered that the array of textures and flavors meshed very nicely and that the chicken was seasoned to perfection. Drizzled with a little Sriracha sauce to taste, this sandwich was both satisfying and delicious.
The restaurant atmosphere was welcoming, too, with its pleasant employees and upbeat music.
Learn more about Bánh Mì Brothers
Address: 230 WT Harris Blvd A-7, Charlotte, NC 28262
Phone: 704-900-7842
Hours: 10:30 am-8 pm Tuesdays-Saturdays; noon-7 pm Sundays; closed Mondays
Website: https://www.banhmibrothers-clt.com/
Lazeez Mediterranean Grill
By Shima Elbashir and Michyla Greene
Tired of eating at the same old chain restaurants? Wanting to try something different? Lazeez Mediterranean Grill is the perfect place to explore new dishes at a convenient price!
Lazeez specializes in Middle Eastern cuisine and offers many popular dishes of the region.
On a recent visit, the waitress provided the menu right after we entered and gave plenty of time for us to make our order.
As an appetizer, she gave us chips and a special sauce. The chips were very light and crisp, and the salsa was filled with many different vegetables and spices.
For our main course, we had Chicken Shawarma: a pita-bread wrap that contains grilled chicken, mayo, hummus and an assortment of vegetables. We also ordered a side a French fries for an added American flare.
The meal as a whole was a myriad of flavors and was very filling!The Shawarma was very tasty, seasoned well and well presented.
The service was incredible, the environment was very peaceful, and the staff was attentive, friendly, and welcoming.
10/10 would recommend!!!
Learn more about Lazeez Mediterranean Grill