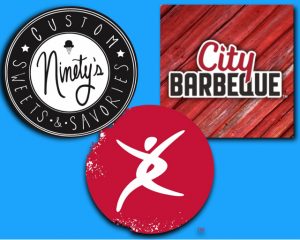 Dining choices are growing rapidly at University Place with the recent opening of City Barbecue and Pei Wei Asian Grill.
Fans of Ninety's Ice Cream and Sandwiches will be happy to hear that the longtime restaurant has reopened after a major remodeling.
And more restaurants will open soon near the future Clay Boulevard Transit Station. Additional restaurants will include Cava Grill, Dunkin Donuts, Five Guys and Blaze Fast Fire'd Pizza.
Here are details on City Barbecue, Pei Wei Asian Grill and Ninety's.
City Barbecue
Charlotte's fourth City Barbecue opened in June at 8948 JM Keynes Drive, in the new retail area across JW Clay Boulevard from the future transit station.
The Ohio-based restaurant chain says that all meats are smoked on site at each restaurant, and the sides are made "throughout the day from scratch." That attention to detail has won it many awards up across Ohio and, more recently in the Raleigh area, where it also has four locations.
So what region of the country does City Barbecue's meat represent? "We'd rather not get into that fight," says the restaurant website, although it does say "you'll certainly catch hints of Texas, Kansas City, North Carolina and Memphis in our 'que."
City Barbecue offers dine-in, carry-out and catering services. It also has a special "build your own" menu for meals under 500 calories.
Learn more about City Barbecue
Pei Wei Asian Diner
If you taste hints of P.F. Chang's China Bistro on your first visit to Pei Wei, don't be surprised. The fast-casual restaurant was launched by P.F. Chang in 2000 and now has more than 200 locations across the U.S. and in seven other countries.
How popular is Pei Wei? Well, more than 340,000 people are following it on Facebook!
While food is served faster here than at more traditional restaurants, preparation is just as thorough, the company website says. "We create specialty dishes using the same culinary techniques that Asian chefs perfected long ago. Our recipes are thoughtfully crafted with dozens of ingredients, prepared by hand daily."
The extensive menu includes hand-rolled sushi, rice bowls, salad bowls, noodle bowls and Pei Wei classics such as Thai chicken lettuce wrap, Vietnamese chicken salad rolls. small plates, shareables and soups.
You can eat in or dine out on the restaurant patio.
Learn more about Pei Wei Asian Diner
Ninety's Ice Cream and Sandwiches
Located near the lake at 9009 JM Keynes Drive, Ninety's has built a strong following for both its desserts and sandwiches. The restaurant closed for a few months this spring for an extensive remodeling. It held its grand reopening on June 17 with enthusiastic response. After all, how can you stroll the University Place boardwalk on a warm summer evening without an ice cream treat?
Charlotte Agenda, the online local magazine, recently featured Ninety's and its new operators, Darith Ngear and his cousins Richard Tang and Bopha Sok. Ngear's mother, Srey, ran the shop for 12 years before retiring and letting the next generation take over, Charlotte Agenda reports.
We visited recently and can report that the ice cream is as tasty as ever, plus there are several new concoctions on the menu and even off, such as this week's "limited edition" hot glazed donut filled with French vanilla ice cream, homemade blueberry muffin crumble and cream cheese drizzle.
We asked about the sandwiches and were assured that Ninety's will begin offering them soon, as well.
Learn more about Ninety's Ice Cream and Sandwiches