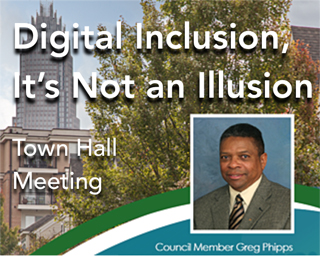 The push to bring super-fast Internet service to Charlotte has renewed concern about a "digital divide" between communities that have access and others that don't.
Learn more about "digital deserts", the importance of digital inclusion and what Charlotte is doing to ensure access to all citizens at a Town Hall Meeting on June 22, hosted by District 4 City Council member Gregg Phipps.
City staff and members of the Charlotte-Mecklenburg Digital Inclusion Steering Team will talk about the importance of having citywide access to high-speed Internet and their efforts to provide that access. Among the speakers will be Bruce Clark, project manager of the Digital Inclusion Project; Phil Reiger, deputy director of Charlotte's Transportation Department; and Kevin Dick, economic development manager for Charlotte's Neighborhood and Business Services Department.
The event will also include an interactive resource fair to help participants better understand the issues.
Want to go?
The meeting will take place 6:30-8 pm June 22 at Martin Luther King Middle School, 500 Bilmark Ave. (off of North Tryon Street at Eastway Drive).
Learn more. RSVP to Kim Oliver at koliver@charlottenc.gov or 704-336-2180. More details