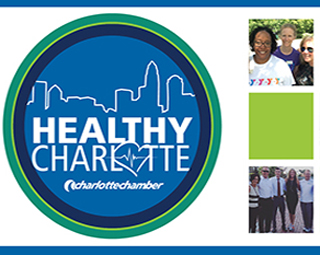 The Charlotte Chamber's Healthy Charlotte Council kicks off its annual Walking Wednesdays challenge in May in partnership with YMCA of Greater Charlotte. The goal of Walking Wednesdays is simple – add at least 30 minutes of walking into your regular daily routine each Wednesday in May. Organize a group at your workplace, school or neighborhood and track your total minutes.
Where to walk in University City
In University City, Keith Family YMCA will open up its 1/3-mile track from noon to 1 pm each Wednesday in May for anyone who wants to come and walk. The track is near the Miracle League baseball field, and the Y will have the restrooms there available for walkers to use.
For details, contact Keith Family YMCA (formerly called University City YMCA) at 704-716-6700.
Get the app!
New this year, participants can track and share their individual activity easily using an app that was designed in partnership with the YMCA of Greater Charlotte.
"We're excited to partner with the YMCA of Greater Charlotte for this year's Walking Wednesdays challenge," said Amy Vance, Healthy Charlotte Council co-chair and senior vice president of population health and value-based care at Novant Health. "The Y has partnered with their network of fitness vendors to develop such an easy-to-use app, and we encourage participants to download the app and join the fun! There is no doubt that walking is great for your health and wellness and can add tremendously to your overall feeling of well-being."
Here's how to sign up and get the app
In the Apple App Store or on Google Play, search for YMCA of Greater Charlotte WTN (Workout Tracking Network).
Create an XID using your phone number. Note: YMCA members who have not downloaded the app previously should select their home branch when registering.
If you are not a YMCA member, download the app and select "Charlotte Chamber."
Go to "Challenges" and select the corresponding week's challenge.
The app can be paired with various fitness trackers, and a leaderboard ranks the most active users while demonstrating the collective impact of all participants throughout the community. Weekly updates along with photos or videos may also be emailed to healthycharlotte@charlottechamber.com.
"The vision behind the Healthy Charlotte initiative is to elevate Charlotte to become one of the healthiest communities in the country," said Katie Kaney, Healthy Charlotte Council co-chair and senior vice president and operational chief of staff at Carolinas HealthCare System. "We invite the entire community to participate in Walking Wednesdays. Challenge yourself, challenge your coworkers, and challenge your neighbors, too."
Visit charlottechamber.com/healthycharlotte for more information about the Healthy Charlotte initiative.