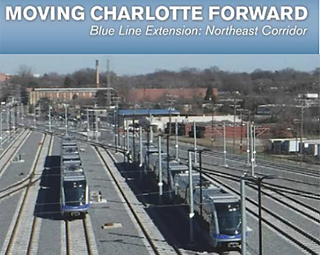 Charlotte will hold three meetings May 2-4 to share progress and answer questions on the LYNX Blue Line Extension, scheduled to start operation next March.
City and state staff will have information about transportation improvements near transit stations including new sidewalks, bike paths and I-85 bridges.
The meetings will be:
May 2 – 6-8 pm at Sugaw Creek Presbyterian Church, 101 W. Sugar Creek Road at North Tryon Street
May 3 – noon-2 pm at the Charlotte Main Library,300 E. 7th St. (drop-in session only)
May 4 – 6-8 pm at New Hampton Presbyterian Church, 211 Hampton Church Road (off of North Tryon Street just south of McCullough Drive)
Streaming on Facebook
People not able to attend the May 2 and May 4 sessions can watch them live online and ask questions via the CATS Facebook page. Streaming on Facebook will start about 6:15 pm. The CATS staff says it will answer some questions in real time and get answers to all questions that viewers post.
 Additional topics covered
Besides sharing LYNX updates, city and state staff will have information about bus operations and several transportation projects that are under way or planned for the LYNX corridor. These include:
More LYNX details
Get more information at www.ridetransit.org, on Facebook or by calling 704-336-7433.
Ribbon cutting May 9 for the I-85 South Bridge
The public is invited to celebrate the completion of the I-85 South Bridge, 2 pm May 9 on University Pointe Boulevard near IKEA Boulevard. The ceremony will take place on the south side of the bridge, near IKEA Boulevard. (south side of I-85). Parking is available nearby at Belgate Shopping Center (Marshall's side, 8150 IKEA Blvd.).  Details