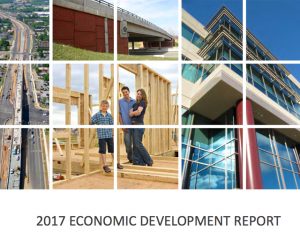 University City Partners had great news to share on April 13, as it released its 2017 Economic Development Report for Charlotte's No. 2 employment district. From surging commercial-real-estate sales to numerous business expansions, "Remarkable data points to this as a Charlotte submarket that is on fire!" Executive Director Darlene Heater declared.
UCP officially released the report at its Economic Development Partners meeting, held jointly with UNC Charlotte at the Fox Sports facility in University Research Park. The report puts hard numbers to a strong year of economic growth within the Municipal Service District. Heater offered a face-paced outline of the past year's developments and hints at the future.
2016 overview
Surge in property sales – Property sales included the Mallard Creek Center business park at West W.T. Harris Boulevard and Mallard Creek Road, three of the Research Square office buildings that line David Taylor Drive in University Research Park, and several multifamily communities.
More coming – Innovation Park, the landmark repurposing of IBM's1980s manufacturing facility, is for sale, Heater added.
The good thing about these property sales is that the new owners often make improvements, Heater said.
US recovery raised many ships
More jobs and new space – The surging US economy has benefited many of University City's biggest companies, which in turn have added employees and new space. Wells Fargo, Electrolux, EPRI, AXA, Allstate, Carolinas Healthcare System, Red Ventures, Verizon and Duke Energy all have grown in University City in the past year, Heater said.
Office supply shrinking – The Ucity office vacancy rate is now under 9%, Heater said. Red Ventures continues to grow its University City hub at Cambridge Corporate Center. Carolinas Healthcare System is exploring future uses at its campus at North Tryon Street and Harris Boulevard. Hospital planners expect the LYNX light-rail line, opening in March 2018, may provide opportunities for new operations here, Heater said.
Big plans reshaping University City transportation
Light rail is just the start – The LYNX Blue Line Extension will start running 107 trains a day next spring between uptown and UNC Charlotte. That line, plus massive spending to on bridges and street improvements, will dramatically change how people get to destinations across University City, UCP's planning director, Tobe Holmes, told the group.
More than $100 million in Northeast Corridor Improvements (NECI, for short) will improve streets near each station with wide sidewalks and bike corridors.
2 bridges will link URP to Tryon and transit – Two new bridges over I-85 will soon provide direct connections for cars, shuttle buses, pedestrians and cyclists traveling between North Tryon Street and University Research Park.
The new I-85 South Bridge, opening in May, will provide a direct link between Innovation Park, the Belgate mixed-use center and North Tryon Street.
A twin bridge over I-85, set to open in 2022, will link URP, University Place and the Clay Boulevard Transit Station.
Ambitious makeover for University Place
Creating the city center – The coming light-rail line is also fueling new development plans. Perhaps the biggest game changer could be a plan that Holmes helped draft for transforming the retail hub that includes University Place and neighboring Mallard Pointe Shopping Center – directly across North Tryon Street from UNC Charlotte at the JW Clay Boulevard transit station and parking deck.
Holmes walked through details of the plan, crafted by University City Partners and a half-dozen stakeholders, including the hospital and university.
UNC Charlotte gets a college district – Key elements include transforming Mallard Pointe into a true college district; developing a midrise office district along Harris Boulevard and I-85; creating a pedestrian-focused retail and residential corridor from the Clay Station to the lake; and establishing a recreation area around the lake's edge near Clay Boulevard.
This area is already ringed by economic drivers including the research park, university and hospital, Holmes noted. "The one thing in the middle is a shopping center from the 1980s that is ripe for redevelopment."
Download the report – Click here to view and download the 2017 Economic Development Report.