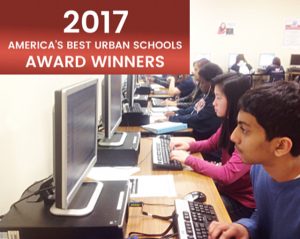 A national program on education excellence has named Mallard Creek High School one of "America's Best Urban Schools" – again.
"We selected your school because you demonstrated through multiple indicators (including a visit by an eight-person verification team) that your school is achieving impressive academic results for every demographic group you serve," reads the announcement from the National Center for Urban School Transformation.
Among 27 schools honored nationwide
Just 27 schools nationwide out of hundreds of applicants earned the 2017 designation by the National Center for Urban School Transformation, operated by San Diego State University. Principal Kevin Garay received official word of the award last week and immediately shared the good news with faculty, staff and students.
"There was a sense of pride when I announced it to the student body," Garay said.
Many people involved in winning application
The award recognizes years of work by Mallard Creek High faculty and administrators in crafting the school's learning environment, as well as efforts of more than 40 administrators, teachers, parents and students in completing the application. That included hosting a team of eight educators who visited Mallard Creek High once it was named a finalist.
The visitors interviewed administrators and teachers, including several teachers chosen by the team at random. The visitors also interviewed parents and 15 students.
When students heard the good news last week, Garay said, "There definitely was a sense of pride. A lot of teachers gave me feedback, too."
Winner in 2014, as well
This is the second time that Mallard Creek High has been honored by the National Center for Urban School Transformation. The school also won in 2014.
Mallard Creek High's successful approaches are included in a new research-based book, "Leadership in America's Best Urban Schools," written by the center's director, Joseph Johnson, and two associates.
A new chance for validation, recognition
When the National Center invited Garay last summer to enter again, he asked Assistant Principal Jonathan Kay, who helped with the 2014 award, and Academic Facilitator Sara Matthews to lead the new application effort.
"We feel we have continued the good practices we did then (for the 2014 award) and have expanded them, so we thought that they could bring attention to the school again," Garay said.
Kay added, "We talk to other schools about our programs and we think we are doing a good job, but it's good to have a national organization validate that."
Strong interest in Mallard Creek's success
Mallard Creek High's award comes with a $1,000 cash prize and an invitation to present the school's learning approach at the 2017 America's Best Urban Schools Symposium in May in Nashville.
The presentation could draw a crowd, if the 2014 symposium is any measure. Very few large comprehensive high schools have won the award, and many people wanted to hear how Mallard Creek did it, Kay said.
"People wanted to know what we are doing, what we consider our challenges and how we are addressing them," Kay said of the 2014 symposium. "We got a lot of questions and people interested – so much so that we had to go back and present for a totally different group."
More about the award, book and Mallard Creek High