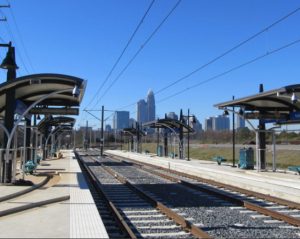 If you follow the LYNX Blue Line Extension project, you've already heard the news: Light-rail service to Center City is now set to begin next March rather than this August. But did you know that March 2018 has been the required delivery date all along? And have you read the news reports on the surge in LYNX-driven investment here?
About the new LYNX launch date
The Charlotte Area Transit System (CATS) announced in late February that the LYNX Blue Line Extension will not open this August as previously announced.
"The BLE will now open by March 2018, per the Federal Transit Administration (FTA)'s requirement, although CATS will work with contractors to identify any time-saving activities in order to open the system earlier," the transit system announced, adding that $1.16 billion project continues to be under budget.
While construction of the 9.3-mile line between Seventh Street and the UNC Charlotte campus is more than 90% complete, CATS said, extensive testing and safety reviews will require another year to complete.
"CATS has pursued every available option of schedule compression in an attempt to deliver the BLE to the Charlotte region by the August 2017 schedule," reads a statement posted on the project website.
"Contract incentives and additional staff added to construction contracts in 2015, done to mitigate early delays due to utility relocation, construction, weather, etc., were valuable investments that kept the project from extending past the March 2018 required opening.
"Even with these mitigation efforts, the ambitious schedule and ongoing construction coordination continue to be a challenge, and as a result, light rail service will not begin in August as previously communicated."
What's ahead for the next year
With construction nearly complete, motorists and businesses along North Tryon Street should have much less traffic congestion going forward, CATS said,  adding that businesses and residents can expect to see testing, landscaping and other finishing touches put in place. Intermittent lane closures will continue to occur but will become fewer and for shorter periods.
CATS said it will continue to notify businesses and residents of upcoming lane and road closures as they occur.
Business Journal reports surge in property sales and investment
The anticipation of the extended light-rail line to University City is creating a new era of growth, writes the Charlotte Business Journal in a recent article about the wave of investment and construction along the North Tryon Street corridor near UNC Charlotte.
Darlene Heater, executive director of University City Partners, talked to the Business Journal about UCP's work with government, residents and property owners to build master plans to guide that growth within walking distance of three light-rail stations at University City Boulevard, McCullough Drive and JW Clay Boulevard.
University City Partners also tracks property sales and has seen a massive surge in property sales in the last two years – more than $660 million in transactions within the core business district that includes University Research Park and the many office parks, apartment communities and shopping centers surrounding URP and UNC Charlotte.
The Business Journal article includes a slide show of LYNX Blue Line Extension construction and encourages readers to check out the latest CBJ Commercial Real Estate Quarterly report, which features the University City submarket.