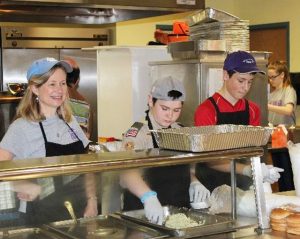 University City is invited to help Boy Scout Troop 13 celebrate its Silver Anniversary year on March 10-11 with barbecue and a massive silent auction. In true Scout spirit, the Troop will deliver 100 meals to St. Mark's Soup Kitchen even as it serves 1,000 or more guests at University City United Methodist Church this Friday and Saturday.
Scouts will serve lunch and dinner from 10 am to 8 pm Friday and lunch on Saturday from 10 am to 2 p.m. at University City United Methodist Church, 3835 W. WT Harris Blvd. at Sugar Creek Road. MAP
The BBQ dinner includes the famous slow-smoked pork barbecue, beans, and slaw that have made the event a fixture in the community. In recent years, the menu has expanded to include roasted BBQ chicken, which quickly became a crowd favorite.
Meals cost $10 for a choice of pork plate, pork sandwiches, chicken plate or one pound of BBQ to go. Dine-in service or a convenient drive-thru are both available.
$27,000 worth of silent-auction items!
The event also includes a Silent Auction featuring several hundred items with an estimated retail value exceeding $27,000, say the auction organizers.
Among the items you can bid on: lunch and dinner packages, jewelry, 3-month membership at University City YMCA, numerous sporting event packages, weekend getaways and even five nights in a luxury oceanfront condo in the resort city of Cabo San Lucas on the southern tip of Mexico's Baja California peninsula!
Some items have "buy it now" pricing, meaning that your "bid" is actually the purchase price.
Bid online through 8 pm Weds or at the barbecue until 1 pm Saturday
You can bid online now through 8 pm Wednesday and at the barbecue on Friday and through 1 pm Saturday, when the auction closes. Most bidders come back to pick up their items on Saturday, once the final bids are confirmed. Otherwise, the Scouts will reach out to the winning bidders.
New this year – Boy Scout BBQ Bake Sale Bingo!
The Scouts are adding some spice to their bake-sale dessert table – Bingo on Friday afternoon from 2 to 4 p.m. Come play for fun and the chance to win edible prizes ranging from single servings of dessert to entire cakes, pies, barbecue meals and Troop 13 Secret Sauces.
About Boy Scout Troop 13
This is Troop 13's 21st Annual BBQ and the 11th anniversary of the associated Silent Auction fundraiser. Troop 13 recently celebrated its 25th anniversary with a luncheon at University City United Methodist Church, where the troop began in 1992.
Hundreds of boys ages 10 to 17 have belonged to Troop 13, which has produced nearly 100 Eagle Scouts, the highest level of achievement in Scouting. The church also sponsors Cub Scout Pack 13, for boys ages 7-10.
Community service is a major emphasis of Troop 13's mission. Each year, Troop 13 Scouts provide over 1,000 hours of community service. Scouts work with programs serving the mentally challenged, the homeless, those dealing with drug problems, and at-risk youth.
Proceeds from the BBQ and Silent Auction will help Troop 13 Scouts attend summer camp, take monthly camping trips and go on truly memorable high-adventure trips such as canoeing the Boundary Waters in Minnesota and backpacking through the mountains of northern New Mexico at Philmont Scout Ranch.
New boys are welcome at Troop 13 and Pack 13
Troop 13 meets most Tuesdays at 7pm in the fellowship hall at University City United Methodist Church, 3835 W. WT Harris Blvd. at Sugar Creek Road. Learn more at the Troop 13 website or contact Troop 13 Scout Master Dan Schulte at danschulte@bellsouth.net.
Learn more about Cub Scout Pack 13, for boys ages 7-10, by visiting the Pack 13 website or by contacting Pack 13 Cub Master Peter Blumenfeld at pblumenfeld@hotmail.com.