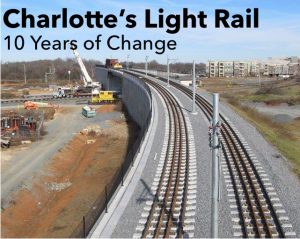 Where has light rail brought Charlotte since it began in 2007? Where are we headed as University City's line opens this summer?
Get answers at the March 2 presentation, "Charlotte's Light Rail: 10 Years of Change," featuring Darlene Heater, executive director of University City Partners, Charlotte Economic Development Director Kevin Dick and veteran housing developer Judd Little of Chevington Associates.
The luncheon event at Dressler's Restaurant at The Metropolitan will feature a panel discussion on the impact of light rail. Panelists include:
Darlene Heater, who has helped shape transit-oriented development both in University City and in uptown and South End.
Kevin Dick, the city of Charlotte's economic director.
Judd Little of Chevington Associates, a veteran developer of multifamily housing across the Southeast including Alpha Mill Apartments, Birkdale Village Apartments, and The Lexington.
"As we celebrate the 10-year anniversary of the LYNX Light Rail, we will explore the 'benefits of' and the 'challenges with' its expansion in Charlotte," the event webpage explains. "Our panel will share how it has impacted their business from planning, design and construction, and even site location. They will discuss their thought processes behind each and their outlook on how they see the next 10 years changing as the light rail's tracks continue to connect neighborhoods and communities."
Shaun Tooley, a principal and landscape architect with LandDesign, will moderate the discussion.
The luncheon is presented by the Society for Marketing Professional Services. SMPS Charlotte brings together marketing and communications professionals serving the architecture, engineering and construction industries to learn best practices, stay informed and meet and connect with fellow professionals.
Learn more and register
The event will take place 11:30-1 pm March 2 at Dressler's Restaurant at the Metropolitan, 1100 Metropolitan Ave No. 125, Charlotte (map). The luncheon is open to the public as well as SMPS members. Tickets for the public are $55 through 5 pm Feb. 28; $75 after. Register online.
For more event information, contact Sara Riggenbach at 704-594-8968 or sara.riggenbach@terracon.com.
Learn more about the Charlotte chapter of the Society for Marketing Professional Services at smpscharlotte.org.