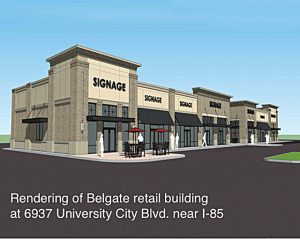 The expansive Belgate retail and residential development continues to grow. Work will start this spring on an Outback Steakhouse, and by late spring or summer on two retail buildings near I-85.
DDR, which owns and manages the center, plans to add two multi-tenant retail buildings beside University City Boulevard near the I-85 interchange. The buildings, totaling about 15,500 square feet, will be built just west of the Culver's restaurant. The side-by-side buildings will share a 3.1-acre site and 161-space parking lot. The building permit for the project puts the cost of the buildings at about $1.6 million.
Company spokesman Brandon Glenn said that DDR expects to start construction this spring or summer, with the first tenants opening in early 2018. DDR is negotiating with several national retailers to lease the space, Glenn said.
Outback Steakhouse
Construction is expected to start this spring on an Outback Steakhouse on University City Boulevard just east of IKEA Boulevard. The restaurant is planned for the cluster of retail buildings near the IKEA store that includes Burlington and T.J. Maxx. A fourth building site remains available.
Glenn said that Outback is relocating here from another location and expects to open next fall. An Outback Steakhouse currently operates near UNC Charlotte at 1015 Chancellor Park Drive, across from the Lowe's store.
Learn more about Belgate
Belgate Shopping Center is an 883,159-square foot retail property located at I-85 and University City Boulevard and featuring the only IKEA store between Atlanta and Washington, D.C. The center's many national retailers include Furniture Row, Hobby Lobby, Burlington, T.J. Maxx, Old Navy and Ulta.