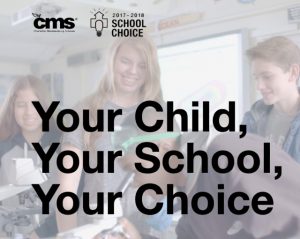 Charlotte Mecklenburg Schools offers dozens of special educational programs at locations throughout Mecklenburg County, including UNC Charlotte and other University City locations.
Students must apply and be accepted through a lottery system. Parents can apply through Feb. 14 for the general lottery. Here are details.
CMS School Choice offers families a menu of magnet and theme-based programs and schools designed to meet a child's unique interests, talents and learning styles. Choices range from health sciences, the arts, science, technology, engineering, mathematics and entrepreneurship to languages, Montessori, global studies, leadership, public safety and more.
Seats in CMS School Choice are assigned through a lottery open to all families who have students enrolled in CMS. Programs available in University City University City residents can apply to programs throughout University City plus north and northwest Mecklenburg County, as explained at the School Choice website.
These programs are available at UNC Charlotte and other locations in University City proper:
Grades K-5 – Language Immersion / Talent Development – Mallard Creek Elementary  website
Grades K-5 – University City Computer Science Immersion School – website to come
Grades K-8 – Science, Technology, Engineering and Math (STEM) – John Motley Morehead STEM Academy website
High School – Early and Middle Colleges
Cato Middle College at CPCC Cato Campus website
Lottery application deadline is Feb. 14
The deadline for applying to the first round of the lottery (the primary one for most students) is 10 pm Feb 14. You can learn much more about the many programs, the schools offering them, the lottery process and services such as transportation, at http://cmschoice.org.