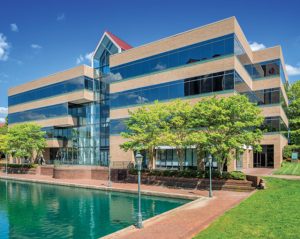 One of University City's oldest and perhaps even historic office buildings – One University Place – just underwent a comprehensive update, thanks to new owner Origin Investments. The multi-million-dollar renovation includes major improvements to the lakeside office building's large multi-story lobbies, monument staircase, common areas, landscaping and much more.
Here's the rest of the story, courtesy of Trinity Partners, the exclusive management and leasing representative for the building. Trinity Partners oversaw the renovation project.
Origin Investments completes major renovations at University Place
Feb. 7, 2017
By Molly Carroll
Origin Investments has completed a multi-million-dollar renovation program at One University Place, the four-story, 84,800-square-foot office building in Charlotte's University market area. The completed renovation program brings a fresh look and a new, move-in ready spec office suite to One University Place.
Origin Investments acquired One University Place, its third acquisition in Charlotte, in late 2015. The building is University Place's only multi-story office building; it overlooks a lake and surrounded by numerous amenities at The Shoppes at University Place.
"This building presented a fantastic opportunity for Origin," said Marc Turner, Managing Director of Investment Management at Origin Investments. "It's been a fixture in the submarket for years but, unfortunately, had become forgettable alongside the University area's growth and development. This renovation program changes that."
Improvements to lobbies, common areas, landscaping and more
Building renovations included a comprehensive makeover of the two large multi-story lobbies, monument staircase, elevator lobbies on each level, common areas, elevator modernization, restrooms, exterior paint, signage, and landscaping. In addition to freshening up the building that was developed in 1986, Origin created more collaborative spaces, in the lobbies as well as the common areas.
Trinity Partners, the exclusive management and leasing representative for the building, oversaw the renovation project. "The difference from before to after is stunning," said Jennifer Kurz, a senior leasing agent at Trinity Partners. "The renovations allow One University Place to be repositioned as a top choice for businesses who want to be in the middle of this burgeoning submarket, across from the light rail and anchor institution, UNCC."
Prebuilt office suite showcases One University Place potential
To further promote leasing activity and the opportunities available at One University Place, Origin also completed the development of a 9,416-square-foot, pre-built office suite on the top floor. Current availabilities range from 1,070 square feet to the 9,416-square-foot, pre-built office suite on One University Place's fourth floor.
Graham Rabon, with Redline Design Group, led the renovation project's design team.
"Our task was to establish a fresh new appearance that would increase future tenant interest while still celebrating the existing design features that make One University Place so unique," Rabon said. "To achieve this, a decidedly more contemporary yet neutral finish palette was introduced throughout all of the common areas."
Additional capital improvements included updates to the building's windows, elevator operational equipment, and HVAC systems and controls.  "These improvements to the building systems will prove to be well worth their investment," added Turner. "Tenants and guests will certainly notice the change in the building's operational efficiency."
Ideal location in the heart of University City on the LYNX light-rail line
One University Place is ideally located at the corner of Harris Boulevard and North Tryon in the heart of the University area and less than a mile from the ongoing Blue Line Extension project. Slated for completion in 2017, the project connects light rail service from South Charlotte and downtown Charlotte to the University area with a final stop at the University of North Carolina at Charlotte. The building boasts a stunning four-story glass atrium overlooking a lake and boardwalk that connects to some of the area's most popular restaurants, shops, and professional services.
The renovation project was managed by Margaret Markovich of Trinity Partners. Tyler 2 was the general contractor for the common area and lobby renovations. Trinity Partners Construction Services handled the pre-built suite construction. Trinity Partners' Leah Filicicchia is the building's property manager.
About Origin Investments
Founded in 2007, Origin Investments is a real estate investment firm that acquires office and multifamily properties in eight fast-growing markets: Atlanta, Austin, Charlotte, Chicago, Dallas, Denver, Houston and Raleigh, with offices in Chicago, Charlotte, Dallas and Denver. Origin has more than $600 million dollars in assets under management. The firm also offers its investment opportunities to accredited investors at origininvestments.com.
Origin is currently raising capital for its Fund III, a $150 million fund for which it has already raised $90 million in committed capital, including a $10 million commitment from the firm's cofounders, David Scherer and Michael Episcope. Origin's previous two funds are averaging a 25.4% Net return to investors and have been ranked by Preqin as top quartile.
About Trinity Partners
Trinity Partners is a full service commercial real estate firm serving corporate users and institutional owners throughout the United States, with nine service lines ranging from landlord and tenant representation to property management and investment sales.
Trinity currently leases and/or manages over 16 million square feet of space across the region through our three offices in Charlotte and Raleigh, North Carolina, and Greenville, South Carolina.