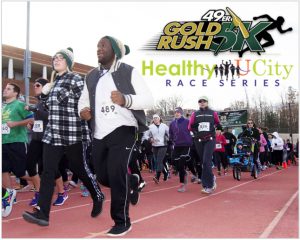 Help fund the UNC Charlotte Development Scholarships and Girls On The Run while running and walking with lots of 49er fans at The UNC Charlotte 49er Gold Rush 5K Run/Walk on Feb. 4.
The 49er Gold Rush 5K is the first race in the new Healthy UCity Race Series.
Details of the Gold Rush 5K
The Gold Rush 5K will take place at the Irwin Belk Track and Field Center, 8723 Cameron Blvd. on the UNC Charlotte campus. Cost is $25 online or in person at Run For Your Life –University through Feb. 3; $30 at the event. Net proceeds will go to the scholarship fund.
Gold Rush 5K participants also can make a direct donation to Girls On The Run, which seeks to "inspire girls to recognize their inner strength and celebrate what makes them one of a kind."
About the Healthy UCity Race Series
The Healthy UCity Race Series, sponsored by University City Partners and Carolinas Healthcare System, is a collaborative series of road and bike races designed to encourage health and wellness for all ages and fitness levels. With events ranging from fun runs to the University City bike-run Duathlon, there are plenty of opportunities to participate.
The Healthy UCity Race Series includes a warm up (spring) series and a cool down (fall) series, so you can pick the series package that suits your goals. These events are all in University City and feature scenic routes and fantastic venues.
See the full race schedule and learn how you can take compete, volunteer and help sponsor the series at healthyucity.org.
Future Spring Series events