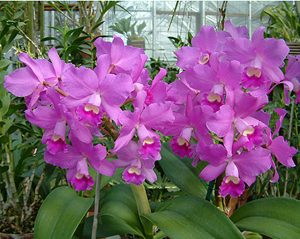 UNC Charlotte's Botanical Gardens are a delight even in late winter, thanks to the McMillan Greenhouse and the extensive outdoor gardens featuring native Carolinas plants.
McMillan Greenhouse will host an orchid sale and chance to talk with orchid experts on Feb. 11-14. Come back on Feb. 26 to stroll the Susie Harwood Garden and learn how to create your own Southern winter garden. Here are the details.
Orchid sale at the Botanical Gardens
Why settle for predictable roses when you can give exotic, elegant and long-lasting orchids to your loved one? Come to the McMillan Greenhouse Feb. 11-14 to enjoy the fragrant and beautiful display of orchids, ask questions of their experts and then choose from a select variety of healthy blooming orchids well-suited for the home.
Orchid Sale hours are 9 am-3 pm Feb 11, 13, 14 and 1-4 pm Feb 12. Admission is free. Parking is available beside the McMillan Greenhouse and in the visitor parking area of the East Deck, on Mary Alexander Road at Van Landingham Road. For more event details, call the gardens at 704-687-0721.
Botanical Gardens Winter Guided Tour on Feb. 26
Take an informative Sunday afternoon stroll through the Susie Harwood Garden and learn how you can transform your own yard with the treasures of a Southern winter garden: bright berries, bark textures, evergreen structures and magically fragrant flowers.
Groups of about 10 people and their tour guides will head off into the garden at both 1 and 2 pm. Each guide will walk a certain path direction, so there will plenty of room for everyone.
Tours will start at the McMillan Greenhouse, 9090 Craver Road at Mary Alexander Road.
Tour details
Cost of the tour is $5 per person, or free for current Garden Members. Parking is free on weekends. You can register at the event, or CLICK HERE to register in advance. To learn more, contact Paula Gross at pmgross@uncc.edu or call the gardens at 704-687-0720.
About the UNC Charlotte Botanical Gardens
The UNC Charlotte Botanical Gardens offer 10 acres of Carolinas native plants, while the McMillan Greenhouse showcases both plants from across the globe and time (check out the Dinosaur Garden), as well as a unique collection of carnivorous plants native to the Carolinas.
The outdoor gardens are open daily during daylight hours. The greenhouse is open 9 am-4 pm Mon-Sat and 1-4 pm Sundays. Admission to both is free. Learn more.
 Become a garden steward
Want to show your commitment to bringing the world of plants to the people of Charlotte? Become a steward of the UNC Charlotte Botanical Gardens.
Stewards receive numerous benefits such as special plants, discounted educational programs, and early access to annual plant sales. Memberships start at $45 for individual Core Steward memberships and $60 for families.
Core Steward members get discounts for programs, books and purchases from Bartlett Tree Experts, Dearness Garden Center, Ross Farms, Birdhouse on the Greenway and King's Greenhouse. Gold and Green Stewardships receive additional benefits.