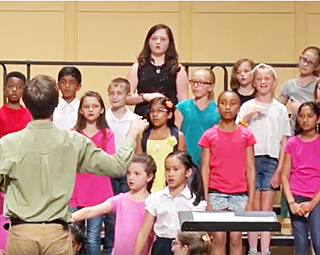 Does your child love singing? The UNC Charlotte Children's Choir for third- through fifth-graders has opened enrollment for this free opportunity from the Music Department to learn voice and perform.
For 14 weeks starting Jan. 23, students can take part in this choral ensemble led by artistic director Ginger Wyrick. Professor Wyrick is a widely sought-after choral conductor, pedagogue, and expert in children's choral music. University music education students will also assist in teaching the choir students.
This opportunity is being offered to students free of charge.
This is the ninth year of the UNC Charlotte Children's Choir, which has grown to more than 70 participants from Charlotte-Mecklenburg and Cabarrus County schools.
Rehearsals will be on campus in the Robinson Hall for the Performing Arts on Mondays from 4:45 to 6 pm, beginning Jan. 23. Students may be dropped off at the front entrance of Robinson Hall and will be greeted by a Lab Choir Assistant (look for the adult wearing a name badge), and then picked up in the same location.
At the end of the semester, a performance of the children's work will be presented for parents and the community in the Anne R. Belk Theater in Robinson Hall on campus.