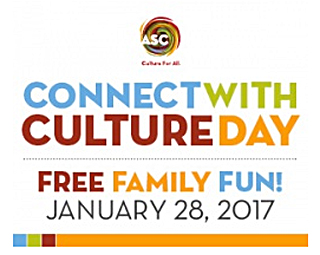 Arts, science and history explode across Charlotte on Jan. 28, as dozens of museums and groups offer FREE visits, programs and performances for all ages at venues ranging from NoDa's Free Range Brewing to uptown's Bechtler Museum of Modern Art and University City's Regional Library.
Connect with Culture Day is presented by members of the Arts and Science Council. Events are free. Plan to arrive early, as space is limited. Some experiences require pre-reservations.
Offerings in University City
In University City, activities will include the Charlotte Ballet presenting a storytime reading by Ballerina Cara Hansvick, 10:15-11:15 am at University City Regional Library. Hansvick will read several of her favorite children's stories. Children of all ages are encouraged to dress up.
Also, Martin Luther King Jr. Middle School will host "Diggin' History Through Music and Dance," an historical exploration into the contributions and struggles of Africans and African Americans.
Sampling of other activities (and there are many more!)
Free admission to several museums
Free admission 10 am-2 pm to Mint Museum (Randolph Road), Bechtler Museum of Modern Art, Mint Museum Uptown, Levine Museum of the New South, Harvey B. Gantt Center for African-American Arts + Culture.
History told through arts
"Black on Broadway," celebrating Broadway show tunes that featured African American performers, will be presented at the Charlotte Art League building, 1517 Camden Road.
OnQ presents "The Children of Children Keep Coming," telling the African American experience told through poetry and prose, blues and gospel, hymns and jazz and more. This is based on the epic poem by Russell L. Goings and features images of  the late Romare Beardon, a world-renowned visual artist who grew up in Charlotte. Presented at First Baptist Church-West/Family Life Center, 1801 Oakland Avenue, Charlotte.
Theater
Warehouse Performing Arts will give a free performance of "Sylvia", a modern romantic comedy about a marriage and a dog, presented by Warehouse Performing Arts, Cornelius (limit 2 tickets; reserve at 704-619-0429)
Davidson Community Players invites everyone ages 8 and up to a fun-filled theatre workshop with Lake Norman's award winning community theatre.
Heritage
Charlotte Museum of History will provide a sampling of international foods from 10 area restaurants, dances of India and Latin America, African drumming and tours of the 18th Century Hezekiah Alexander House.
Mint Hill Historical Society will give free tours of the Carl J. McEwen Historic Village, featuring buildings and artifacts from the late 1800s through early 1900s.
Historic Rosedale, the 15-room federal plantation home on North Tryon Street, will offer free tours.
Science
Discovery Place science educators will be at Free Range Brewing in NoDa to present "Crazy Catapults," a hands-on way to learn about simple machines, Newton's Laws of Motion and more while building a mini-catapult to take home.
Wildlife
Carolina Raptor Center at Latta Plantation Park will offer free admission to see its many wild birds, meet artists at work, and do a nature craft.