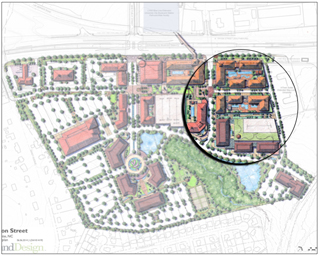 A veteran apartment developer has purchased 15 acres on North Tryon Street at the University City Boulevard Transit Station. According to tax records, Oxford Properties of Atlanta paid $6.35 million in December for the property, in the University City Gateway mixed-use community.
Oxford Properties has developed and built thousands of apartments, including the 284-unit CityPark View apartments in the master-planned CityPark community on West Tyvola Road.
Charlotte City Council rezoned 15 acres of University City Gateway's property in October from B-2 business to Transit-Oriented Development – Mixed Use. The new zoning allows office, residential, retail and civic uses in higher density, pedestrian-friendly communities like those found in South End near the Blue Line transit stations.
Vision for University City Gateway
McKinney is marketing University City Gateway as a unique opportunity for a high-quality mixed-use development of offices, housing and shopping. University City Gateway encompasses more than 60 acres along North Tryon Street between Sandy Avenue and Rocky River Road West, directly across North Tryon Street from University City Boulevard Transit Station and the 1,500-vehicle transit parking deck.
"University City Partners has laid out a plan that will make University City a premier area within Charlotte for working, living and leisure," reads a passage on the development website. "The addition of the LYNX mass transit system to University City and the corresponding stop across Tryon St, makes the property highly valuable for any mix of retail, business or multi-family housing. "
"While the area continues to develop its economic core, it lacks a true mixed use area for upscale residential, shopping, dining, and hotels," the website adds. "With more than 1,500 planned parking and large LYNX blue line station planned immediately across the street, the property is the perfect opportunity to provide attractive shopping and dining experiences for visitors."
About Oxford Properties
Oxford Properties says it develops and builds all types of rental communities, from townhomes to mid-rise mixed-use communities. A photo gallery on the company website shows a wide array of designs from traditional suburban communities to mid-rise projects similar to the 4- to 5-story apartment communities on University City Boulevard near UNC Charlotte.
Oxford Properties completed the 284-unit first phase of CityPark View in 2013 and has begun construction of the 200-unit second phase. The apartments are within the 170-acre master-planned CityPark mixed-use development rising on the site of the former Charlotte Coliseum.
CityPark includes a retail district along West Tyvola Road, an office district, an apartment district with structured parking tucked inside the mid-rise buildings, and a residential townhome district.
Details of University City Gateway
The 15-acre tract that Oxford Properties bought in University City Gateway stretches from North Tryon Street to Rocky River Road. While a master plan for University City Gateway, posted on its website, suggests apartments close to North Tryon Street and offices closer to Rocky River Road, the zoning approved in October does not include specific uses. The rezoning does show two road connections to Rocky River Road and one major entrance to North Tryon Street, opposite Stetson Drive.
Learn more about University City Gateway, Oxford Properties and CityPark View apartments