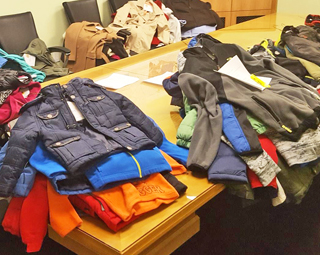 Thanks to the generous giving of many people, nearly 200 students at eight University City schools are getting warm winter coats.
University City Connect, a nonprofit group that supports University City schools, organized the Kids Coat Drive, with the Tide Dry Cleaners at The Arbors and Chick-fil-A University Place providing collection sites and CMS Community Partnerships identifying needs in our schools.
The drive provided new and gently used coats to students at Vance High, Nathaniel Alexander Elementary, Morehead STEM Academy, University Meadows Elementary, Newell Elementary, Hidden Valley Elementary, James Martin Middle and Martin Luther King Jr. Middle schools.
About University City Connect
University City Connect engages businesses and organizations in University City, Charlotte, creating strategic partnership and volunteer opportunities that support student success – from kindergarten to career.
Focused on University City Charlotte-Mecklenburg Public Schools (CMS), University City Connect works closely with principals to identify school and student needs. University City Connect Community Corporate Council, in partnership with the CMS Strategic Partnerships Office, promotes and coordinates needs and opportunities to align community resources.