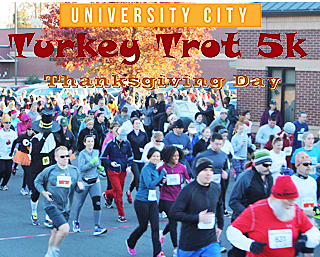 Attention runners and walkers: Start your Thanksgiving morning with a brisk run or walk for a good cause – by taking part in the University City Turkey Trot 5K and children's fun run. The event will benefit Sickle Cell Partners of the Carolinas.
Want some extra fun? Come in costume!
Event details
The University City Turkey Trot is a 5K race/walk sponsored by Sickle Cell Partners of the Carolinas on Thanksgiving Day.  Join fellow runners and walkers on Thanksgiving morning for the 3rd annual University City Turkey Trot 5K.
The event takes place at The Fresh Market, 3024 Prosperity Church Road. The 5K starts at 8 am.
Costumes and kids' events, too!
The University City Turkey Trot 5K will also feature a fun run for kids, starting at 9 am, and costumes are encouraged for participants of all ages! Prizes will be awarded for the top three costumes.
After the race, cool down and enjoy a post-race mini-feast featuring food, drinks and music!
Volunteers and sponsors welcome, too!
It takes many hands to put on this event, and the organizers welcome both volunteers and sponsors.
Volunteers are needed for tasks ranging from handing out water to helping stage the Kids Fun Run. Learn more at universitycityturkeytrot.com/volunteer.
Several levels of business sponsorships are also available. Get sponsorship details at universitycityturkeytrot.com or by emailing universitycityturkeytrot@gmail.com.
Meet our sponsors – The following businesses and groups are already helping: Bojangles, Community Blood Center of the Carolinas, Google Fiber, Orangetheory Fitness, Run For Your Life and University City Partners.
Register for the Turkey Trot and get more details
Visit http://www.universitycityturkeytrot.com/ for more details and to register online. Cost is $30 through Nov 17; $35 Nov.18-22. The Kids' Fun Run is $5. There will be no registration on race morning.
Learn more about Sickle Cell Partners of the Carolinas
For more information about the mission and work of this nonprofit group, visit sicklecellpartnersofthecarolinas.org.