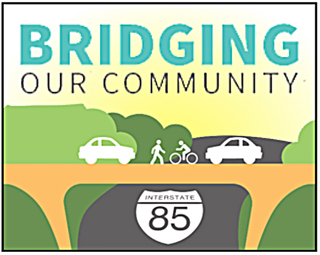 The public has until Nov. 30 to review an excellent summary regarding the latest plans for our future I-85 North Bridge, and to add your suggestions.
The comments will help project engineers fine-tune the design for a novel bridge and roadway that will provide a safe link for pedestrians, cyclists and vehicles between University Research Park and the JW Clay Boulevard light rail station.
The bridge will have no interchange with I-85. It will, however, have a "signature" design that will serve as a visual gateway to Charlotte.
Website offers bridge details and online presentation
The city has created an informative website that includes a general overview of the project and an "Online Public Meeting" of its presentation on Nov. 3. It only takes about 10 minutes to view the seven short video segments of the meeting.
HOW TO OFFER YOUR COMMENTS –  Feel free to write your comments and suggestions via email links on the website. Watch a short video overview, and offer your ideas, at charlottenc.gov/I85NorthBridge.
Bridge timeline
Much of the funding to build the bridge was included in the city municipal transportation bonds that Charlotte voters approved on Nov. 8.
Planners will take comments from the Nov. 3 meeting and others submitted through Nov. 30 to create a more complete design.
The city will hold another information meeting in early spring 2017, where the public will be able to offer additional suggestions.
A final design will be approved.
Construction is scheduled to start in 2019.