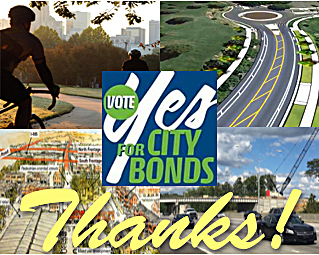 University City Partners offers an enthusiastic "Thanks, Charlotte!" for voters' overwhelming endorsement last week of three city bond referendums.
As a result, University City will benefit greatly from the $219 million of new funding for citywide investments in transportation, neighborhoods and affordable housing. In University City, the bonds will help pay to build:
More referendums planned for 2018, 2010
This is the second of four related bond packages that will fund Charlotte's ambitious Community Investment Plan, a long-range capital investment program designed to meet the current and future needs of our rapidly growing community. The plan includes $880 million in proposed community improvements for transportation, housing, public safety and the airport.
The 2014 bonds, which voters also approved overwhelmingly, included crucial planning money for several of our projects getting construction funding this time around. Those bonds also included money to build the new I-85 South bridge, nearing completion midway between the University City Boulevard and Harris Boulevard interchanges on I-85.
Community Investment Plan – website and details